[ad_1]

COVID-19 has touched our lives, society, and families in innumerable ways. We've all changed so much about our day-to-day in the past year and are wondering which changes will stay with us when we go back to "normal". Harvie has been asking those questions too. What will the new normal look like? How can we all work together to build a strong, resilient food system where we can buy food from people we know and trust?
We decided to find out how you see the future of food for your family. In January we launched an online survey and were pumped to see over 2,000 responses roll in. It's clear that COVID-19 has shown us all the value of community, caring for our neighbor, and staying healthy. Here are some key results from our survey we wanted to share with you. For full survey results check out the infographic below.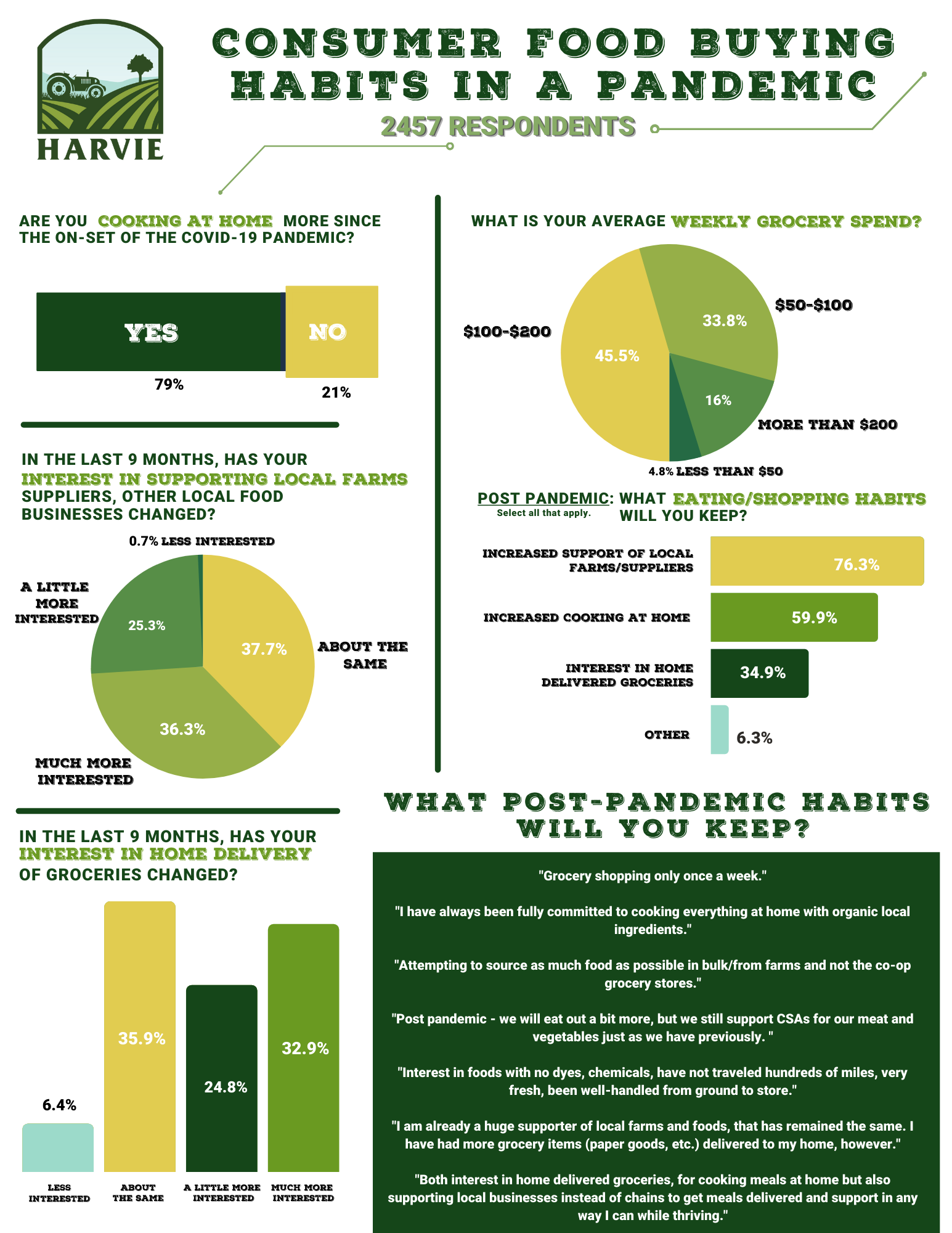 76.3% of those who took the survey have an increased desire to support local farmers and suppliers into the future. We also noted an interest in supporting local restaurants through take-out and delivery. To us, these results show that food is a powerful tool for strengthening local economies and keeping our communities resilient.
Speaking of community, here at Harvie we love a night in, gathered around a home-cooked meal. We were thrilled to see that nearly 79% of our survey respondents are cooking at home more since COVID-19 hit and 59.9% intend to continue doing so. What's more, 57.7% of people have had an increased interest in home delivered groceries, and 34.9% would like to continue receiving home-delivered groceries post-pandemic.
If the above sounds like you, then we've got you covered! We know it's not always easy to find farm-to-table ingredients and decide what to cook. Harvie makes it convenient and fun to buy from farmers nearby and source recipe ideas from our social communities (for those nights when you stare at the fridge and can't make a decision!). We source products from small farms, fishermen, and artisans and deliver them right to your door. By shortening the supply chain, we allow more of your dollar to go directly to the farmer and provide our members with transparency about where your food came from and how it was grown. You can even customize what's in each box to always receive just what you want. Harvie is your go-to grocer for fresh, nutritious, home-delivered food from people you know.
We would love to hear how your food purchasing and preparation has changed from the pandemic! Follow Harvie on Facebook, Instagram, and Twitter for food facts, recipes, and ideas for keeping food close to home. The only way we'll change the way the world eats is together.


[ad_2]

Source link