This sweet potato fries recipe is simple, quick to make and makes for a delicious snack or side dish!
I have this diabolical plan for my son's nutrition. If I can introduce him to the healthy versions of every kind of junk food out there…. and really get him to like the healthy pizza, burgers, fries, chicken fingers and milk shakes, then… when he eats the actual junk food (and you know he'll get his hands on it somehow, somewhere, some way, at some point), he won't like it. Or at the very least, he'll know how to prepare the healthier version when he gets older. That's my plan and I'm sticking to it. But guess what… it works on adults too!
These sweet potato fries are a good case in point. I've had them in restaurants before and they always seem to be lacking something. So I made them at home instead and… voilà! A delicious, sweet potato fries recipe!
HOW TO MAKE SWEET POTATO FRIES
The trick with sweet potato fries is to make sure you are cutting your fries as evenly as possible. This is important simply because you want your fries to bake as evenly as possible. There is nothing worse than thinking your fries are done and then realizing half of them still need to cook because they are thicker than the rest. I use a fry cutter to make like easier.
QUICK NOTES:
Cut them even
Dust them with cornstarch or arrowroot powder
Coat them in a thin but even bit of oil
Add your spices
Bake to perfection
DETAILED NOTES:
The best fries are typically cut thin. At least if you like them crispy in any way. Thick fries certainly have their place, but they are always softer after baking. So thin fries are really where it's at. They bake all the way through and with the help of some starch, end up with a nice crispy outside.


 

The cornstarch (or arrowroot powder) are critical for a nice, crispy outside. You can certainly make it without, but the crispiness will be harder to achieve. The starch really helps.


Coat them in a thin layer of oil AFTER dusting with the cornstarch. This is easiest to do with an oil sprayer. This is the one I use these days. I love it because it never clogs and each spray is an exact, measured amount.


The spices you add, are of course, up to you. I love mine with garlic, but I've seen some people dust them with cinnamon and powdered sweetener too. You can use dried herbs or ground spices like cumin or curry powder to keep things interesting. I also have some popcorn seasoning mix recipes that would work really well here.
Once they are properly seasoned, it's super easy to just pop them in the oven! Bake them for about 30-40 minutes (oven times vary by oven) and then enjoy them with your favorite dipping sauce!
DIPPING SAUCE FOR SWEET POTATO FRIES
There are so many dipping sauces you can enjoy with sweet potato fries. Pick your favorite!
MORE ROOT VEGETABLE RECIPES:
SWEET POTATO FRIES RECIPE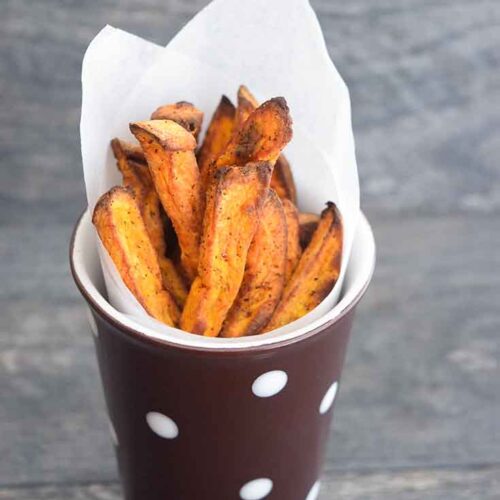 4

small

sweet potatoes

1

tsp.

cornstarch

(or arrowroot powder)

1

tsp.

olive oil in an oil sprayer

1

tsp.

garlic powder

salt

to taste after baking
Clean and cut your potatoes into same-size cuts.

Place the fries in a mixing bowl and dust with cornstarch.

Spray with a very light coat of olive oil and toss again.

Sprinkle a generous amount of garlic powder and a bit of salt over the potatoes and toss for the last time.

Lay them out in a single layer on a cookie sheet lined with parchment paper (no wax paper please!)

Bake at 400 F. for approximately 30 – 40 minutes.

Add more salt if needed.

Let cool slightly and serve.

Please note that the nutrition data given here is a ballpark figure. Exact data is not possible.
Serving: 0.5the recipe | Calories: 253kcal | Carbohydrates: 55g | Protein: 4g | Fat: 2g | Saturated Fat: 1g | Sodium: 145mg | Potassium: 906mg | Fiber: 8g | Sugar: 11g | Vitamin A: 36886IU | Vitamin C: 6mg | Calcium: 78mg | Iron: 2mg
Recipe from the Gracious Pantry® archives, originally posted 1/26/2010.
Source link