Have you ever tried a spaghetti pie? It's a delicious alternative to the same ol' spaghetti night!
The Italian dinner table is the epicenter of everything that happens in the lives of the people who sit at it.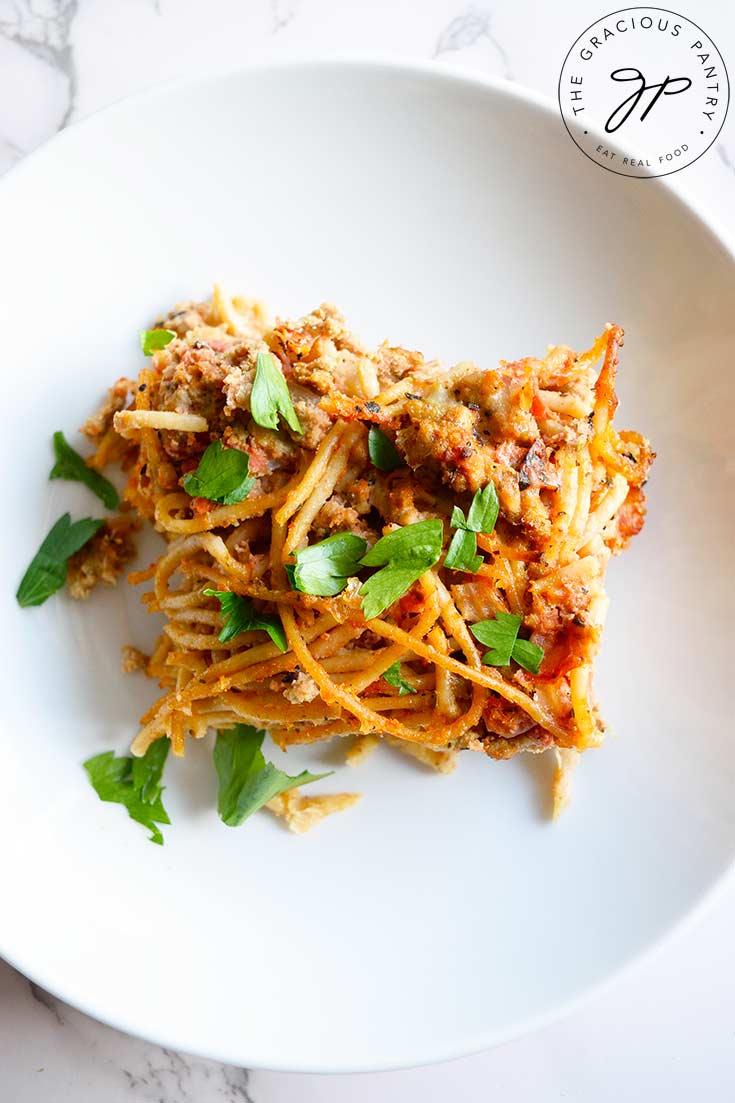 Often large and welcoming, this table, with all its comfortable chairs, seems to call out to you…
"Mangia!! Mangia!!" (Eat!! Eat!!) And typically, you do just that.
Italian meals are an experience unto themselves. There is a whole world of excitement, emotion, and hands waving passionately in the air with every word. You come away from a meal feeling as though you've experienced a lifetime of emotion in one evening's dinner. You feel a strong sense of family and contentedness. It's a fabulous experience. I highly recommend it.
What Is Spaghetti Pie?
Spaghetti pie is basically a casserole. Although, many people bake this in a round dish and cut it like a slice of pie.
But this isn't essential to the recipe. I make mine in a regular casserole dish and cut it into squares and it works just fine.
It's basically all of the things that make Italian pasta a totally comforting experience. It's a mix of pasta, sauce, cheese, spices and, if you so choose, some meat as well.
I use ground turkey in this recipe, but you can easily substitute with ground beef, or leave it out completely for a vegetarian meal. It will cook up the same with or without meat.
Baked Spaghetti Pie
Sometimes, you need something a little different from your regular bowl of spaghetti. And that's where this baked spaghetti pie comes into play. It's a great way to mix things up for pasta night, and it pairs well with a simple green salad and a side of crusty garlic bread.
You'll take all that spaghetti, mix with with some egg, sauce, spices and cheese and bake it like a casserole. So really, this could be called a spaghetti pie casserole.
What You'll Need
1 tbsp. oil – This can be any oil you feel comfortable cooking with. I used coconut oil, but grapeseed, safflower or olive oil will work well too.
1 lb. ground turkey – You can use regular ground turkey, lean ground turkey or ground beef. You can even use a combination of ground beef and pork if you prefer.
1 cup chopped red onion – You don't have to worry too much about getting a fine chop here unless you prefer the texture. A rough chop will work just as well. And if you don't have red onions, a yellow or white onion will work just as well.
1 tbsp. garlic powder – If you prefer to use fresh garlic, use about 6 medium cloves and mince them.
1 tbsp. onion powder – It might seem like a lot to have both onions and onion powder, but I promise, it's not.
28 oz. can fire roasted tomatoes – You can use regular diced tomatoes too. Look for tomatoes with no sugar added.
1 tbsp. balsamic vinegar – You can use the vinegar as is, or if you prefer a deeper vinegar flavor, make a balsamic reduction by boiling some vinegar down by half and using a tablespoon of that.
4 large eggs – If you prefer to use just egg whites, use 8 of them.
1 tbsp. Italian Seasoning – You can use store bought or make your own. The link is above.
1 lb. whole grain spaghetti  – Cook the pasta separately to package directions. The flavor will be greatly improved if you salt the water.
1 cup parmesan cheese – Grated is best here. Shredded will work, but it won't do the same job of "glueing" the pasta together with the egg.
Note: If you have a spaghetti sauce that you prefer, use a 30 oz. jar of it (or as close as you can get to 28 oz.) and omit the fire roasted tomatoes. Also reduce the vinegar down to 1 teaspoon.
How To Make Spaghetti Pie
Preheat oven to 350 degrees F.
Warm the oil in a large skillet.
Add the onions.
Fully cook the meat and onions and set aside to cool slightly.
Crack your eggs in a large mixing bowl.
Whisk until mostly smooth.
Add the crushed tomatoes to the eggs.
Add the grated parmesan to the eggs and tomatoes.
Add the spices to the mixing bowl too.
Whisk all ingredients in a large mixing bowl until well combined.
Add the cooled meat to the egg mix.
Add the pasta to the mix.
Stir everything well so the pasta is well coated in the mix.
Transfer to a 9×13 baking dish.
Flatten the noodles with the back of the spatula and compress the noodles gently.
Sprinkle parmesan over the top of the spaghetti pie.
Bake 50-60 minutes. There should be no liquid (egg white) visible when you cut into the middle of it.
Need Supplies?
More Healthy Italian Recipes
SPAGHETTI PIE RECIPE:
1

tbsp.

oil

1

lb.

ground turkey

1

cup

chopped red onions

1

tbsp.

garlic powder

1

tbsp

onion powder

1

tbsp.

Italian Seasoning

(recipe link above or found in the spice aisle)

4

large

eggs

28

oz.

can fire roasted tomatoes

(or diced tomatoes – no sugar added)

1

cup

parmesan cheese

(+ extra for topping)

1

lb.

whole grain spaghetti

(cooked and drained)
Please note that the nutrition data below is a ballpark figure. Exact data is not possible.
Serving: 1serving | Calories: 217kcal | Carbohydrates: 28g | Protein: 16g | Fat: 5g | Saturated Fat: 2g | Cholesterol: 71mg | Sodium: 227mg | Potassium: 223mg | Fiber: 1g | Sugar: 2g | Vitamin A: 360IU | Vitamin C: 2mg | Calcium: 136mg | Iron: 2mg
This recipe from the Gracious Pantry archives. Recipe originally posted on 1/12/11.
Source link