This southwest chicken crockpot recipe is one of my most popular recipes of all time!
Southwest Chicken is a mouthwatering, wholesome meal of seasoned shredded chicken, black beans, corn, and tomatoes. This chicken dinner recipe cooks to perfection in your slow cooker!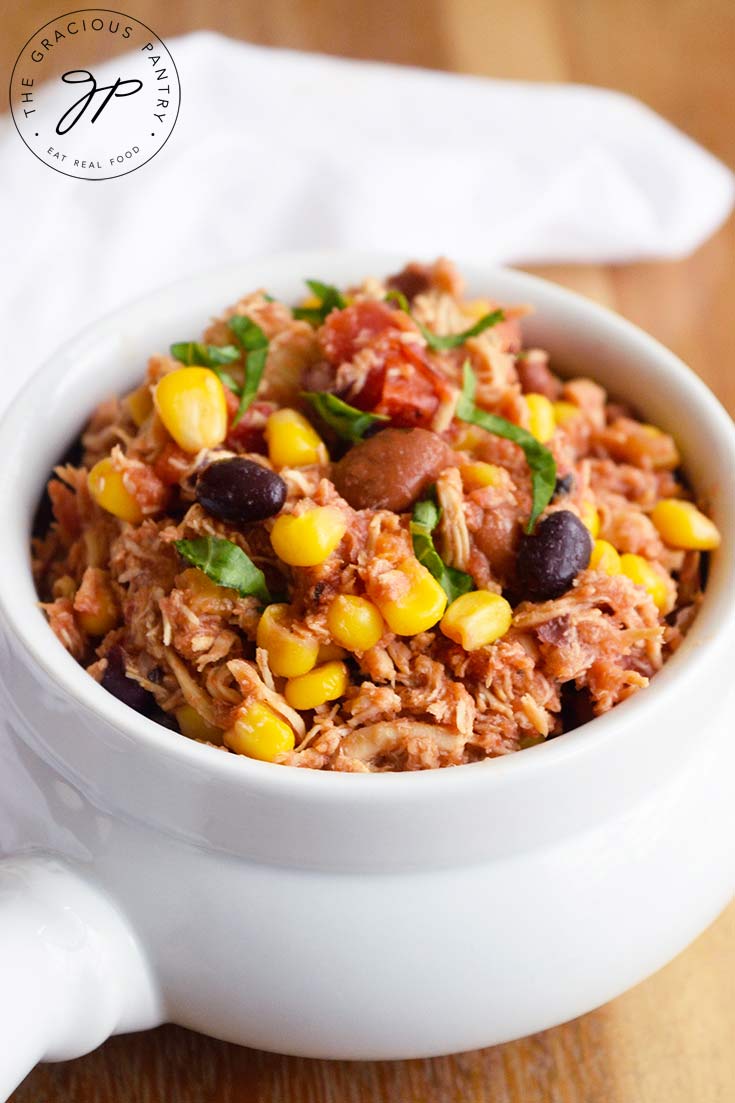 Why Are Slow Cookers So Popular?
Slow cookers are one of human's greatest inventions in my book. No other appliance is quite as low maintenance and no other appliance will cook your dinner for you without any concern at all. Don't get me wrong, I have an Instant Pot too and I love it. But pressure cookers still make me a little nervous and I never like leaving it alone to cook. Plus, it cooks food so fast there's no point in really leaving it anyway unless you are using the slow cooking function, which brings me back full circle to how amazing slow cookers are!
Now I will say that older crockpots are not always trustworthy. But the newer ones are pretty darn safe and I regularly leave the house for hours while it does my cooking for me. My slow cooker is my best friend in the kitchen and I don't see that ever changing!
Somehow, over the years, I got it in my head that using a slow cooker was a cold weather affair. Probably because I usually make slow cooker soups and stews when I'm using it. But after many reader comments, I've decided to use my slow cooker this summer. Apparently, many of you use them year round and avoid that hot stove/oven thing during the hot summer months. This is very wise.
What You'll Need:
2 lb. chicken breasts – You'll want these to be boneless and skinless. You can also use chicken thighs if you prefer.
15 oz. can pinto beans  – Or you can use 1 ⅓ cup home cooked beans. If using canned beans, drain and rinse them. If you want to use a different bean, a great substitute here are kidney beans.
15 oz. can black beans – Or you can use 1 ⅓ cup home cooked beans. If using canned beans, drain and rinse them.
28 oz. can fire roasted diced tomatoes in juice – If you can only find plain diced tomatoes, that's fine too. That's how I originally made this recipe. But I have since switched to the fire roasted diced tomatoes because I like the flavor they impart. Either will work though.
1 lb. frozen corn – You can put this in thawed or frozen. While food safety rules will always tell you to never put frozen food in a slow cooker, I have personally found that, because everything else is raw, the corn being frozen doesn't seem to make any impact at all. The choice is yours. Do what feels right.
12 oz. jar of your favorite salsa – Opt for salsa with no added sugar and pick one that you enjoy the flavor of. The salsa does a lot to flavor this recipe, so the more you like the salsa, the more you'll like the finished dish.
How To Make Southwest Chicken
This is a super simple dish to throw together last minute before you leave the house.
Place the chicken breasts on the bottom of your slow cooker.
Pour the tomatoes and salsa over that.
Layer on the beans.
And lastly, add the corn.
Secure the lid on your slow cooker.
Cook on low for 5-7 hours, or until the chicken easily falls apart when the pot is stirred. I used an electric mixer on the slowest setting to easily and quickly shred the chicken without crushing the beans.
Serving Suggestions
Another way to enjoy this is to drain off a bit of the liquids and use it to fill tacos. It's a small twist on the usual taco chicken you make in a slow cooker (see below). It'll keep your taco night interesting without doing much of anything different. Although if you are using corn tortillas, the added corn may be a bit redundant. But I leave that up to you and your tortillas.
If you're having a get-together, just set the crock on the warm setting (for up to 1 1/2 hours) and let folks help themselves. A big serving spoon will do the trick and everyone can enjoy it as they like it if you serve some small dishes of toppings like avocado or guacamole and sour cream (greek yogurt?) and even a little fresh, chopped cilantro if you like cilantro. (It's amazing how many people out there think cilantro tastes like soap! Glad that hasn't been my experience because I love it so much!!!)
I like to serve southwest chicken and beans over brown rice with a selection of yummy toppings. It's a really versatile dish and the leftovers (if there are any!) are fabulous the next day.
So bust out that slow cooker this summer and enjoy a home cooked meal without ever heating up your kitchen. It's the best of both worlds and everyone will be asking for second helpings!
More Slow Cooker Chicken Recipes
Easy Slow Cooker Mexican Chicken – This easy-to-make dish will cook itself, and is wonderful for filling tacos, burritos or adding to a taco salad!
Italian Stuffed Chicken Breasts – Delicious chicken that pairs well with pasta, rice or just veggies.
2 Ingredients Slow Cooker Taco Chicken – A quick and easy prep that makes plenty of filling for tacos!
Tools For Making This Crock Pot Recipe
SUBSCRIBE
Remember to subscribe to my free newsletter to receive all my latest recipes in your inbox. Click here to sign up!
Southwest Chicken Crock Pot Recipe
2

lb.

chicken breasts

(boneless, skinless)

15

oz.

can pinto beans

(rinsed and drained, or 1 ⅓ cup home cooked beans)

15

oz.

can black beans

(rinsed and drained, or 1 ⅓ cup home cooked beans)

28

oz.

can diced tomatoes in juice

(low sodium is best)

1

lb.

frozen and thawed organic corn

12

oz.

jar of your favorite salsa

(no sugar added)
Please note that the data below is a ballpark figure. Exact nutrition data is not possible.
Serving: 1cup | Calories: 244kcal | Carbohydrates: 28g | Protein: 26g | Fat: 4g | Saturated Fat: 1g | Trans Fat: 1g | Cholesterol: 58mg | Sodium: 736mg | Potassium: 929mg | Fiber: 7g | Sugar: 6g | Vitamin A: 404IU | Vitamin C: 13mg | Calcium: 76mg | Iron: 3mg
This post from the Gracious Pantry® archives, originally posted 4/23/12.
Source link