[ad_1]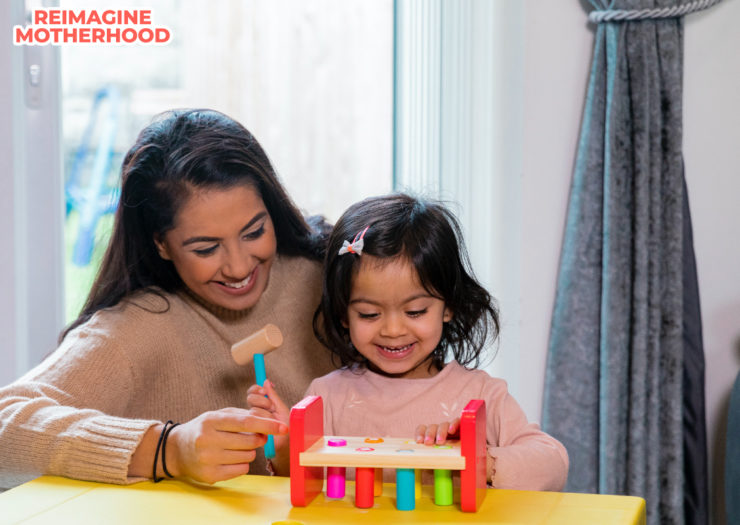 Check out more stories on abortion and reimagining motherhood.
I love Mother's Day. It is a day dedicated to loving and pampering my mom, a single parent who has made so many sacrifices for me. I enjoy the opportunity to shower her with cards, gifts, and affirmations—from a distance, as she lives back home in Pakistan.
Growing up, my mom always said, "You'll know when you become a mom," and like most kids, I rolled my eyes. Although, now that I am a mom—by choice—I can say that she was absolutely right. Mothers will go to extraordinary lengths to do right by their children.
I have made many decisions that are making my daughter's life possible, and I am so thankful to my mom for teaching me to make the right decision, no matter how difficult it may be.
Sex. Abortion. Parenthood. Power.
The latest news, delivered straight to your inbox.
Sometimes it is still hard for me to see myself as a mother because I'm still a kid at heart. My first Mother's Day is when the realization really kicked in. My husband bought me gifts and had my daughter, then only a few months old, "read" a book to me that they made. As I think about that moment, I think about all that made it possible—not just my pregnancy and the birth of my baby girl, but also my abortions. I've had two medication abortions, and I credit both of them for allowing me to be the best mother to my baby girl.
The road to becoming the mother I always wanted to be was not easy. My first abortion was a very traumatic experience, but not for the reasons you may think.
When I found out I was pregnant at age 20, I knew I needed an abortion, but I did not realize that I would have to move mountains to exercise my legal right to choose. Navigating the Texas barriers made my experience an absolute nightmare. A volunteer at an anti-abortion "crisis pregnancy center" lied to me with medically false information, emotional manipulation, and retraumatization of my sexual assault experience.
I had to fly out of state to Colorado for a simple pill that I would later take back home in Texas. But I knew what I wanted, which was to become a mother on my terms.
This Mother's Day, I will be celebrating my mother, my decisions, and all that my abortions gave me: my daughter, motherhood on my terms, freedom from harm.
So, when it was all said and done, I did get my abortion. I am so thankful that I did. My abortion allowed me to get out of an emotionally abusive relationship and finish college to become an advocate for other survivors and reproductive justice.
Because of my abortion, I met my husband, and I had a baby on my terms. We are now parents to the sweetest little girl who is the center of our universe.
When my daughter turned 13 months, I found out that I was unexpectedly pregnant again. Things were different this time; I had the financial means to provide for a child, I liked the idea of a sibling for my daughter, and I have a husband who would be over the moon at the thought of having a second baby.
Unfortunately, I suffered from hyperemesis gravidarum, which is a debilitating condition causing extreme dehydration and the inability to function. Feeling so miserable and unable to care for or spend time with my little girl broke my heart. I was not willing to miss out on her childhood and I knew I wanted another abortion.
Hyperemesis gravidarum hit me at four weeks this time—four weeks earlier than when I was pregnant with my baby girl. My husband is active duty army and stationed a few hours away. I had to call him and let him know he needed to come to care for our daughter because I could not move. When my husband came home, we made a pros and cons list to help me decide what I wanted to do.
My previous abortion helped me prepare better this time around, and it was a pleasant experience. I had a fantastic obstetrician supporting my decision. I hired an abortion doula and tasked my husband with caring for our daughter. My daughter was in the room while I had an abortion, playing with my husband and her toys. I was in a tub of warm water, watching Grey's Anatomy and eating a sandwich through the pain while my doula supported me emotionally and physically.
I passed the pregnancy; my doula double-checked to make sure. When it was all over, we flushed the embryo down the toilet. My husband put our daughter to sleep, and my doula helped me get into my bed. My husband spent the night being extra nice and caring for me. My second abortion was an incredible experience as I felt loved and supported. It is an experience that I want for all those seeking a medication abortion.
The following day I felt so much better; my husband and I spent the day playing with our daughter. When I saw how happy she was around me, I knew I made the right decision. My second abortion allowed me to be a loving, present, and adoring mother to the center of my universe. I will forever be grateful to the fierce advocates who keep fighting for my right to my own body.
This Mother's Day, I will be celebrating my mother, my decisions, and all that my abortions gave me: my daughter, motherhood on my terms, freedom from harm, and my wonderful life with my husband. The books, flowers, and cards are lovely, of course, but they cannot compete with my daughter's laughter and my love for my family. Every Mother's Day, I will celebrate that.
[ad_2]

Source link