[ad_1]

Scroll down for your free calendar and playlist for the month.
Here is your Yoga With Adriene Free monthly Yoga calendar! No gimmicks, no catch. 
This is an offering to help you get on the mat regularly to cultivate balance, to guide you toward inner peace, and to equip you with energy to serve. If you are intuiting that you might benefit from a regular and sustainable at home yoga practice – look no further. 
If this is your first time joining us, welcome! 
Each month, we come together as a community around a theme that inspires questions and guides intention for your practice both on and off the mat. 
The practices selected support your exploration of the theme, whether you are taking on the whole month or dropping in for a single whenever you like. 
The practices on the calendar are free and are all available on the Yoga With Adriene YouTube channel. To make things easy, we have created a monthly playlist for you to follow! 
You will also see some optional Find What Feels Good App practices on the calendar, they are noted as FWFG practices. We include alternate free YouTube practices on those days for those who are not members. Everyone wins, yoga for all. 
This month's free offering is a collection of practices designed to help you MOVE.
Move toward center for mental health. 
Move energy for your emotional health.
Move your body for your physical health. 
Move with breath, as our practice reminds and teaches us that
how we move matters… and it's all connected. 
While our relationship with the future continues to feel so uncertain, move in the direction of unity. 
Mind. 
Body. 
Soul.
Yearning for a fresh start? Join me and our global community this month! Let's move.
Then be still, and watch the ripple effect grow. 
Whether you are looking to keep up with a consistent practice or returning to the mat after a break, may this calendar serve you in continuing your journey and support your commitment to a regular practice. 
Invite someone to join you! This calendar is designed to work with your schedule. Drop-in throughout the month or join us with daily practice for the whole month.
Share your experiences and connect with the community by using the hashtag #ywaMOVE
Be sure to subscribe to the Yoga With Adriene YouTube channel, if you haven't already! This is the #1 way to support the YWA free calendar and the new free YouTube videos.
Connect with @adrienelouise and @fwfglife on Instagram.
Here's what else you need to know:
You can download a free, clickable PDF of the calendar here.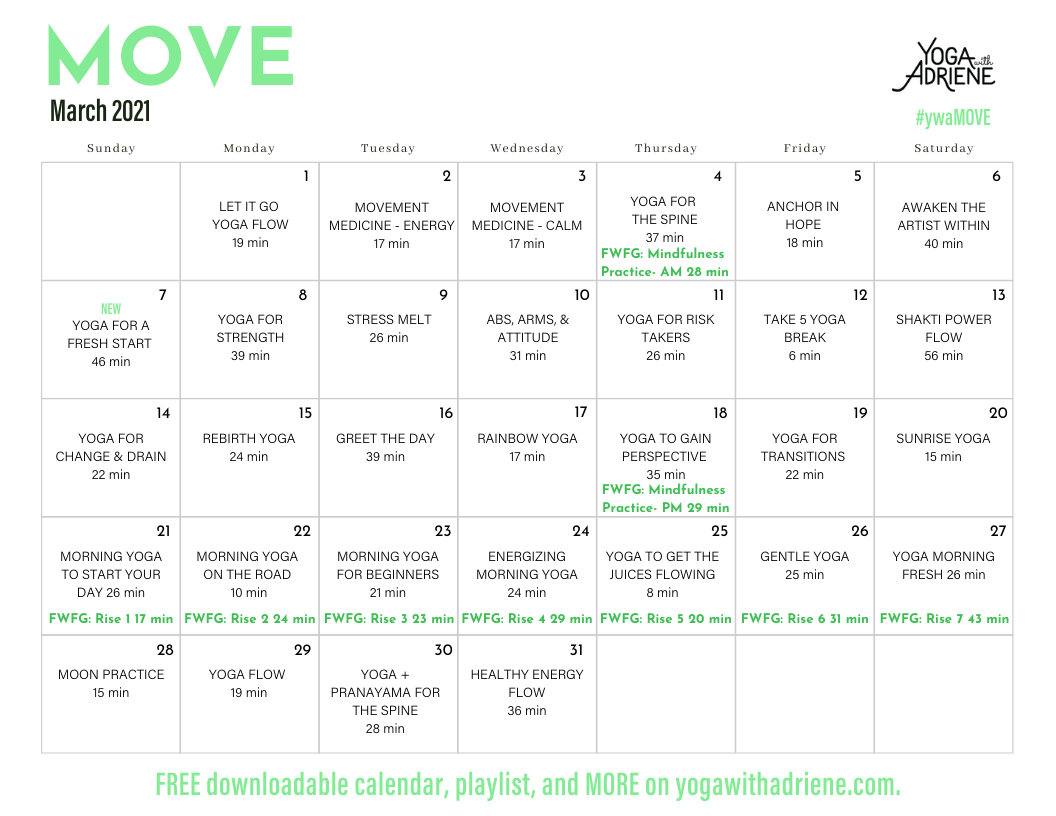 [ad_2]

Source link