Did you know that 93 percent of boys and 62 percent of girls have encountered pornography when browsing online?
Those who own iPads are likely to use either Chrome or Safari as their primary internet browser. Safari is the preferred browser on Apple devices due to its extensive capabilities, which include a mechanism for banning websites.
Wondering how to block porn on an iPad? Safari gives you more control over your browsing by allowing you to blacklist and whitelist websites, but you can also block sites on Chrome. Learn how to keep your child safe from online adult content by reading on.
Why Pornography Is Harmful to Children and Teens
Currently, the porn business is being criticized. A significant website is closing, multi-billion dollar businesses are separating, and lawsuits are continuing to mount.
Therefore, it is simple to persuade parents that pornography has a harmful impact on society. But how can pornography hurt young people?
Pornography is bad for a child's developing brain
Pornography distorts how children perceive sex
Pornography alters how children perceive people
It's hard to quit a pornography addiction
Children that watch pornographic media may hurt others
It's simple for someone to grow addicted to sensual content because porn is so widely available.
In a study examining the addictive potential of porn, it was discovered that people who regularly ingested erotic content had stronger brain responses when exposed to pornographic stimuli. Also, a neurotransmitter called dopamine, which is involved in pleasure and cravings, is impacted by watching porn, just like other addictions.
That's why it's so important to keep your children and teens safe from online adult content!
How to Block Adult Content on Safari iOS
If you are interested in blocking porn on Safari, you can prevent your children from accessing any potentially harmful content by following a few steps. Luckily, all you have to do is enable a function that is already present on your Apple device.
Here are the steps to block adult content websites on an iPhone or iPad using the Safari browser: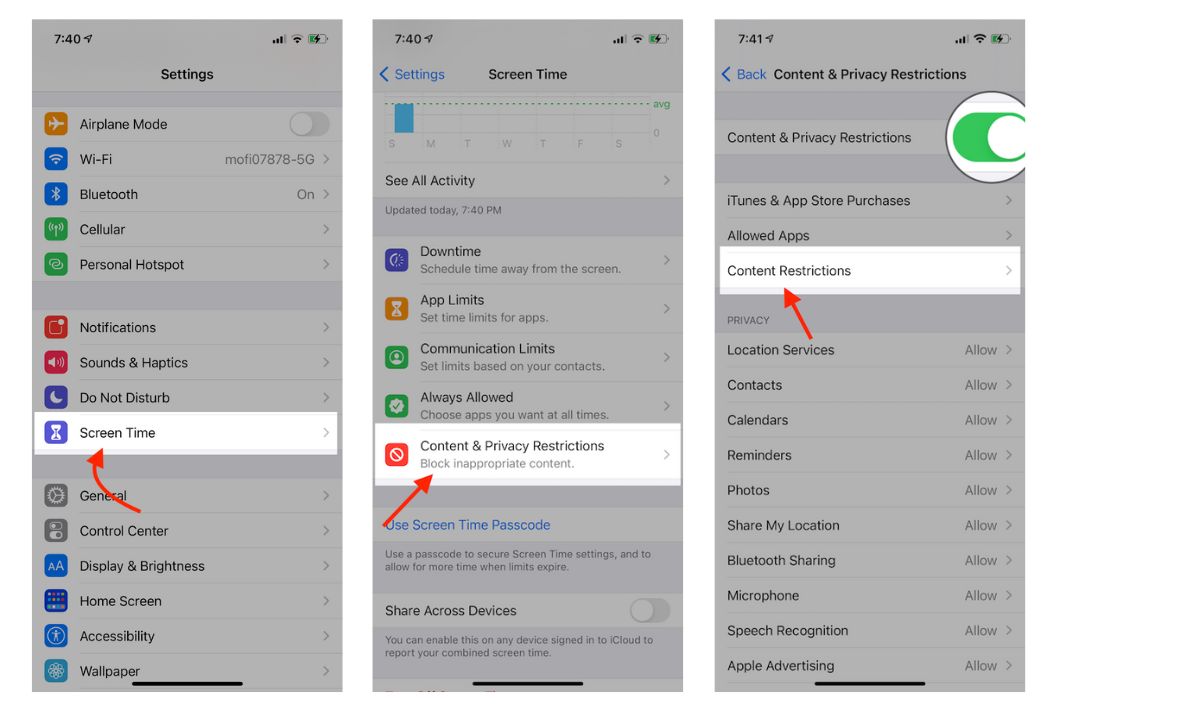 To access Settings on your iPad, tap the Settings button, then select Screen Time.
Select Content & Privacy Restrictions from the menu.
To access the settings, turn on the toggle for Content & Privacy Restriction.
Click on Content Restrictions.
Tap on the Web Content on the content limitations page.
To activate the automatic blacklisting of pornographic websites, click Limit Adult Websites.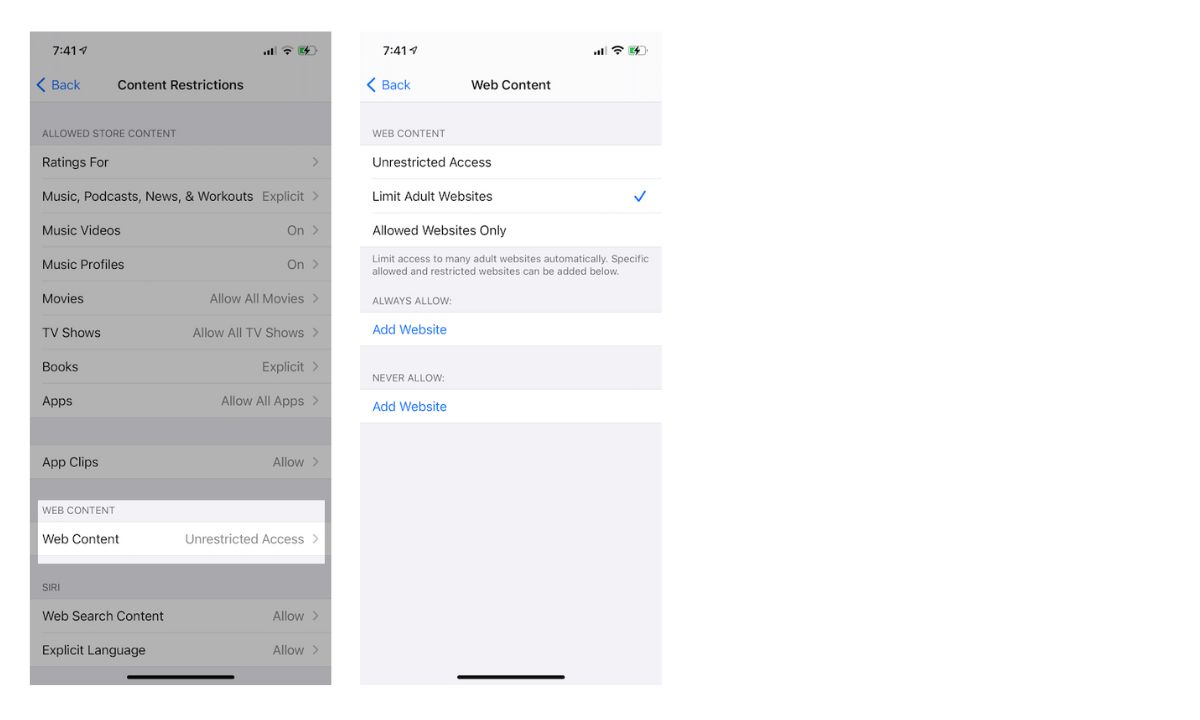 You can use this option to automatically blacklist all the main websites that may contain adult content, but it won't include less popular or websites with hidden content.
Your children won't be able to visit any adult websites thanks to the function. The websites with adult material will be added to Safari's blacklist automatically.
How to Block a Website on Safari iOS
You may block specific websites on Safari if you wish to shield your children from certain ones, such as social media sites. All you need to know is the websites' URLs.
It is advisable to compile all of the URLs for the websites you wish to block in advance. To add them to the list of websites to ban, copy the URL from the Safari address bar.
The steps to block websites on an iPhone or iPad's Safari browser are as follows:
Go to Screen Time > Content & Privacy Restrictions in the Settings app.
Select Content Restrictions > Web Content on the following screen.
Click the Limit Adult Website link on the Web Content page.
Now select Add Website from the NEVER ALLOW column by tapping it.
Simply insert or write the URL of the website you wish to block now.
Once you click Done, that website will be blacklisted.
You can add as many websites as you wish to the block list by employing this technique. Additionally, it automatically bans websites with adult material that are banned. On the other hand, you cannot ban a website if you don't know its URL.
How to Allow Specific Websites on Safari iOS
By employing this technique, every webpage on Safari will be blocked. However, this will only provide you access to a small number of the whitelisted websites.
To add a website to your whitelist, you must be aware of its URL. Your children will only be able to access the websites you have whitelisted and the procedure will stop them from visiting any dubious websites.
To prohibit all websites on Safari and to permit a particular website, follow these steps:
Select Screen Time > Content & Privacy Restrictions from the Settings app.
Select Content Limitations from the content & privacy restrictions menu, then select Web Content.
Next, select the Allowed Websites Only checkbox.
To add the websites you want to have access to, click Add Website.
Simply type the website address or paste it, then hit the Done button.
By using this technique, all websites on the internet will be blocked; you can only visit the websites you have whitelisted.
You must manually enter the website address into the Allowed Website box in order to enable access to additional websites.
More On Blocking Adult Content Websites On Safari
You can use the Limit Pornographic Websites choices under Content & Privacy > Content Restrictions > Web content in the Settings app to prevent adult websites on Safari. All well-known adult and pornographic content will be prohibited as a result.
Go to your settings app's Web content page if you wish to block a specific website. Make sure the Limit adult websites feature is activated before selecting Add a website under the NEVER ALLOW heading. After entering or pasting your website address, click "done."
Go to the web content page in Settings and touch on Allow websites Only to only visit a particular website or to restrict all websites. All other websites will now be prohibited instead of the whitelisted site after selecting the Add Website option and entering the website address that you wish to be able to visit.
Similar to how you may safeguard your data from harmful attacks, you can also increase the privacy and security of your Safari browser.
You may also use the tool to block websites that contain adult content and a few other things you no longer wish to watch or visit. As previously said, if you have children at home and frequently use a shared iPad or your phone, the content and site-blocking feature in Safari is particularly helpful.
You can also choose to disable Safari completely on iOS.
How to Block Adult Websites On Chrome
Many Chrome parental control plugins are available to help block pornographic websites. These extensions all function to block specific websites and adjust specific features, and installation is free. Block Site, TinyFilter PRO, Blocks Web Filter, and StayFocusd is a few of them.
In the section below, we'll use the Block Site as an example to demonstrate how to block adult websites.
Install a website blocker plugin in Google Chrome. You may accomplish this by searching for the extension in the Chrome Web Store and then downloading it by tapping the "Add to Chrome" button.
Relaunch Google Chrome after the download is finished to complete the process. The extension icon is located in Chrome's upper right corner.
To see more options, simply click the symbol.
You can then manually enter the URLs of the websites you want to ban by turning on "Enable Block Site" and clicking the "add page" button.
By selecting the blocked phrase, you can also prevent the use of specific words and phrases. By going to the Adult control section, you can also add more filters.
Additionally, you can use a variety of parental control programs to ban pornographic websites and safeguard your child. Family Orbit is among the greatest parental controls to install.
Be Aware of How to Block Porn On an iPad
By normalizing sexual violence, fostering unrealistic expectations for intimate partners and relationships, and raising the danger of addiction, pornographic exposure damages children and young people. If you are a parent who wants to know how to block porn on an iPad, you're definitely not alone!
Our parental control app allows you to keep an eye on all of your child's phone activity and is available for iOS and Android. With it, you may monitor the type of stuff your child has been seeing.
Our software not only lets you keep an eye on your kid's activities, but it also has a real-time map feature that lets you always know where your kid is. Click here to learn more about the great features of Family Orbit!
Best Cell Phone Monitoring App
1,11,895 people have signed up.
Monitor Calls & Text Messages

View Photos and Videos

Location Tracking & Geofence

Monitor WhatsApp & Kik

Detect & Alert for Inappropriate Activities

Monitor Websites Visited

Compatible with Android and iOS