This Southwestern crustless quiche recipe is a delicious, low carb option for breakfast! It's perfect for a higher-protein breakfast without spending too much time in the kitchen.
Breakfast is a meal you should always look forward to. And for me, that means making different things all the time so boredom doesn't set in.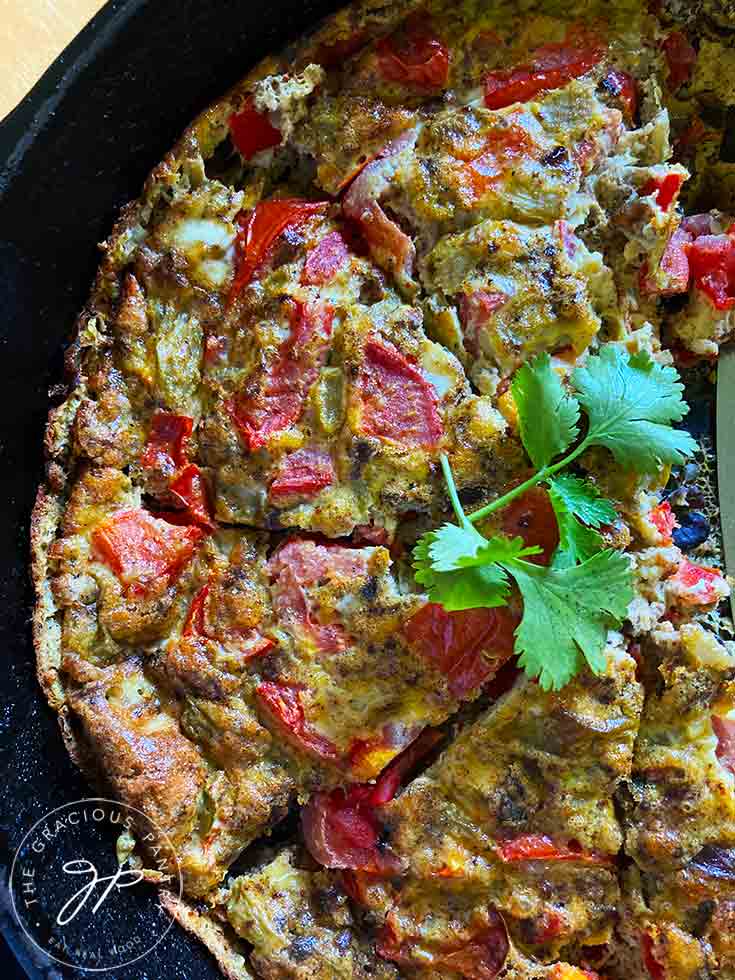 Healthy Recipes For Breakfast
If you love a healthy meal for breakfast, quiche is one of those items that can hit the spot every time, while accommodating most dietary needs. They are great for a low-carb diet, a clean eating diet, or just for healthier eating in general.
That being said, there are certain things I kept out of this recipe for the sake of keeping it healthy. But I'll tell you what those things are and how to add them if you want them. They aren't inherently unhealthy, but would usually be considered more of an extra, particularly where fat and calorie content is concerned..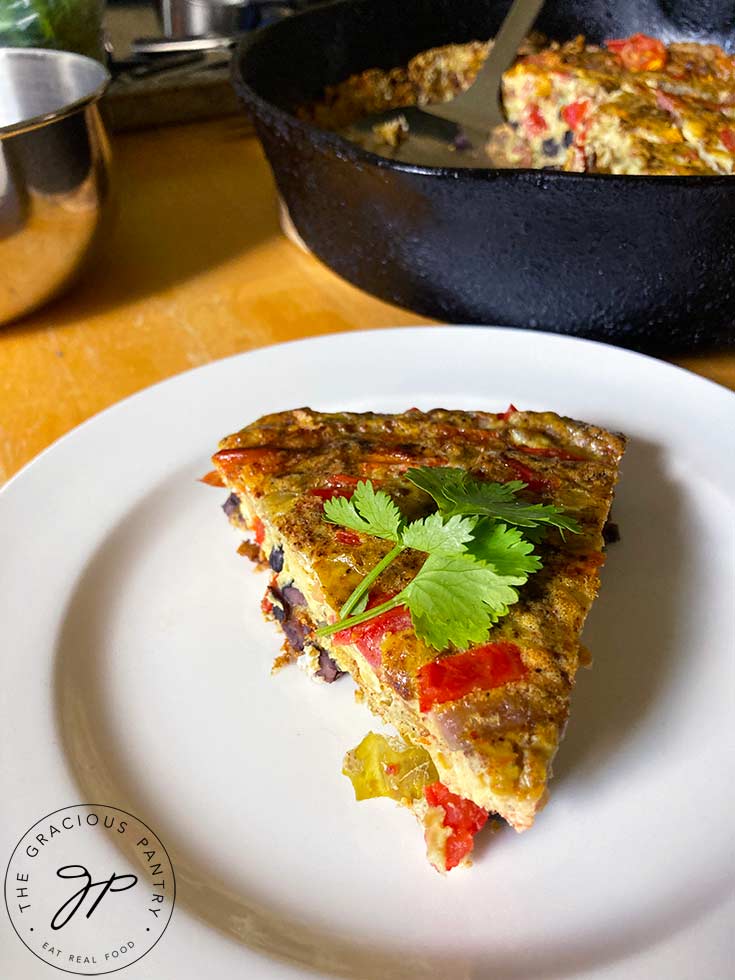 Types Of Quiche
There are so many options when it comes to quiche. It's one of the most versatile breakfast foods around! Here are just a few examples:
Spinach quiche (Florentine) – Usually made with heavy cream, shallots, nutmeg and plenty of spinach along with some cheese.
Cheddar broccoli quiche – As the name states, this is usually a combination of cheddar, broccoli florets and often some chopped onion as well.
Crustless quiche – This can be any type of quiche made without any crust.
Southwest quiche – Quiche with traditional southwestern flavors. (see below!)
Asparagus cheddar quiche – One of my favorites, this quiche typically has asparagus, cheddar cheese and some thyme. You can find my recipe for this here.
Bacon cheddar quiche (Quiche Lorraine) – While cheddar is not always the cheese used here, this quiche has tons of bacon and buttery crust, but it can also be made crustless.
Ingredient Checklist
1 tbsp. oil (plus extra for oiling quiche pan) – Olive oil can be a good choice here. I used coconut oil. Grapeseed would be another good option.
½ cup minced red onion – Chop this as small as you can get it. Bigger chunks won't hurt anything, but smaller ones give a better, overall texture.
½ cup minced red bell peppers – As with the onions, chop these as small as you can.
8 large whole eggs (lightly beaten) – If you want to really up the health factor, you could make this with 16 large egg whites instead of using whole eggs. But the sodium content will go way up if you do that. Egg whites have sodium.
1 cup chopped tomatoes – I used fresh Roma tomatoes. Use whatever type of fresh tomatoes you have.
1 cup black beans – I used canned beans, but you can use home cooked as well. Just be sure there's no added sugar if you use the canned variety.
4 oz. canned green chilis – These won't add spice. They just add flavor. If you want spice, you'll need some minced, fresh chili peppers.
2 tsp. garlic granules (or garlic powder) – If you prefer fresh garlic, make sure to sauté it for one minute at the end of cooking the bell peppers and onions. Use about 4 cloves, minced.
1 tsp. ground cumin – This gives a somewhat stronger cumin flavor. If you prefer something milder, go with ½ a tsp.
½ tsp. chili powder – If you don't have any, a good substitute is paprika.
½ tsp. salt – I used pink Himalayan salt, but use whatever salt you normally sprinkle on your food.
½ tsp ground black pepper – You can use pre-ground or grind fresh pepper yourself.
½ cup fresh, chopped cilantro (optional) – I know some folks can't tolerate cilantro. But if you can, it's excellent with this dish.
Extra Additions
If you don't mind some extra calories, here are some extra additions you can add for even more flavor.
sour cream – best used as a garnish at serving. Approximately 1 tbsp. per slice/serving is usually about right.
green onions – you can either bake these in, or use fresh as garnish. I recommend 1 to 2 full green onions (both white and green parts)
pepper jack cheese – while you could sprinkle this on at serving, it's best to bake this in. About 1 to 1½ cups will work well here. Simply mix into the egg batter with the veggies.
heavy cream – this is added for texture and "fluffiness". You would whisk this into the raw egg batter. About a ¼ cup will work well here. You could add a little more if you wish, but I wouldn't go over a ⅓ cup.
cheddar cheese – As with the pepper jack, it's best to bake this in. About 1 to 1½ cups is best.
cottage cheese – While this is not something I have ever mixed into a quiche, I do know that entire quiches are made with it. I'd say, given the other ingredients used here, you'd want to mix in about 1 to 1½ cups.
monterey jack cheese – As with the other cheeses, bake this in. About 1 to 1½ cups is what you want to use for this recipe.
chili peppers – If you want to add a little more "kick", you can add about 2-3 tbsp. of minced chili peppers. The red ones would be perfect here, but green will work just as well.
pie crust – I'll list some crust ideas below, but you can add a crust to any crustless quiche if you prefer that. Even this one.
salsa picante – use your favorite salsa as a garnish at serving.
How To Make Southwestern Crustless Quiche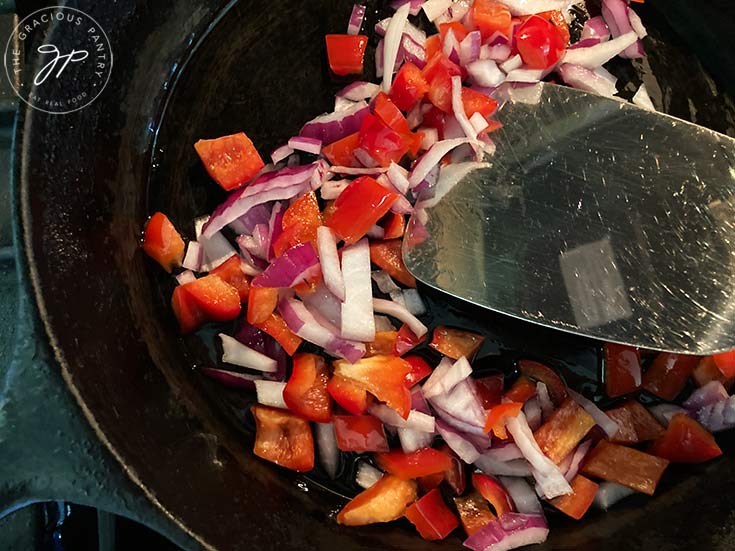 Preheat oven to 400 F. and heat oil in a large, cast iron skillet. Sauté onion and bell pepper in the hot oil until onion is translucent. Allow to cool to a touchable temperature.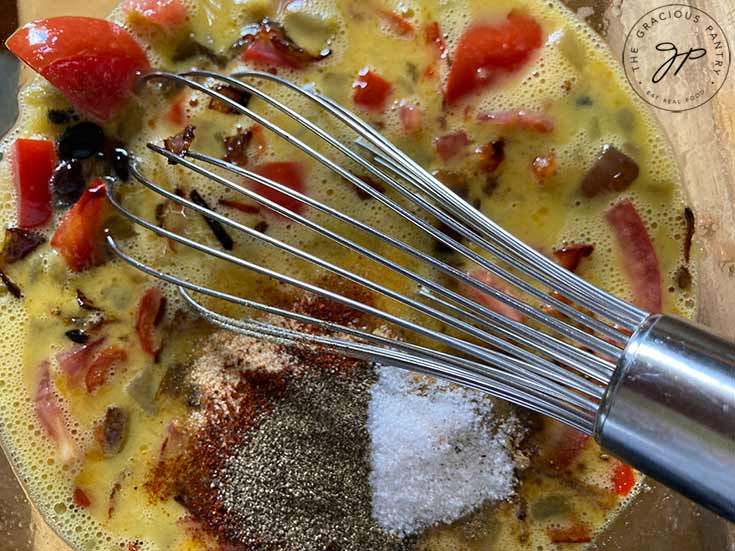 While the veggies cool, add all other ingredients to a large bowl and whisk well to combine.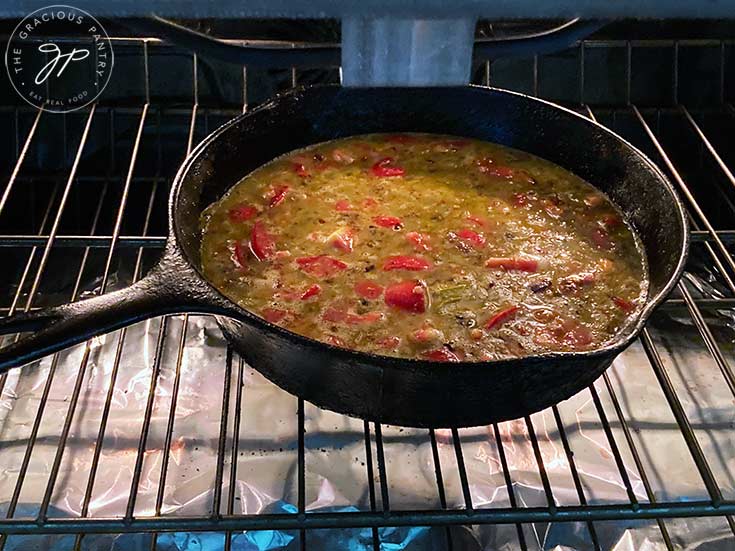 Pour mixture (egg mixture) over the veggies in the skillet and stir briefly. Bake for 20 -25 minutes.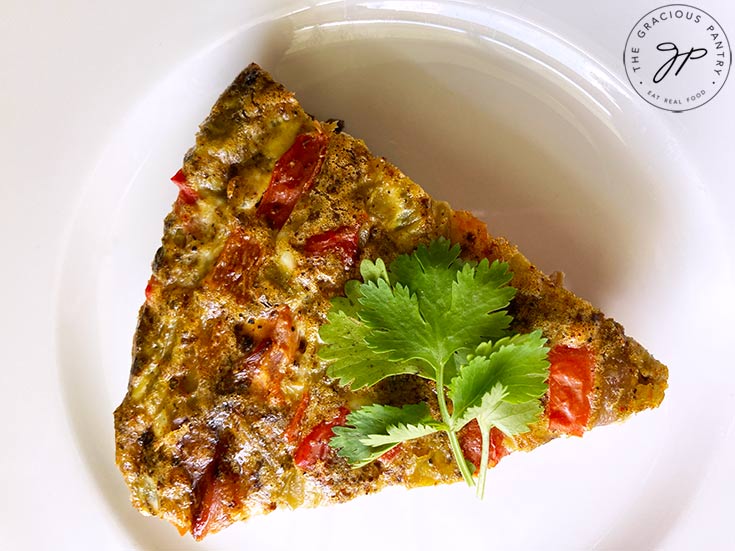 Cool slightly, slice into 8 equal slices, garnish and serve.
Notes:
You can cook this in a pie pan or quiche pan if you prefer, but you may need 2 of them. You would want at least a 9-inch pie dish.
Sauté the veggies over a medium heat. You want to caramelize more than roast or fry.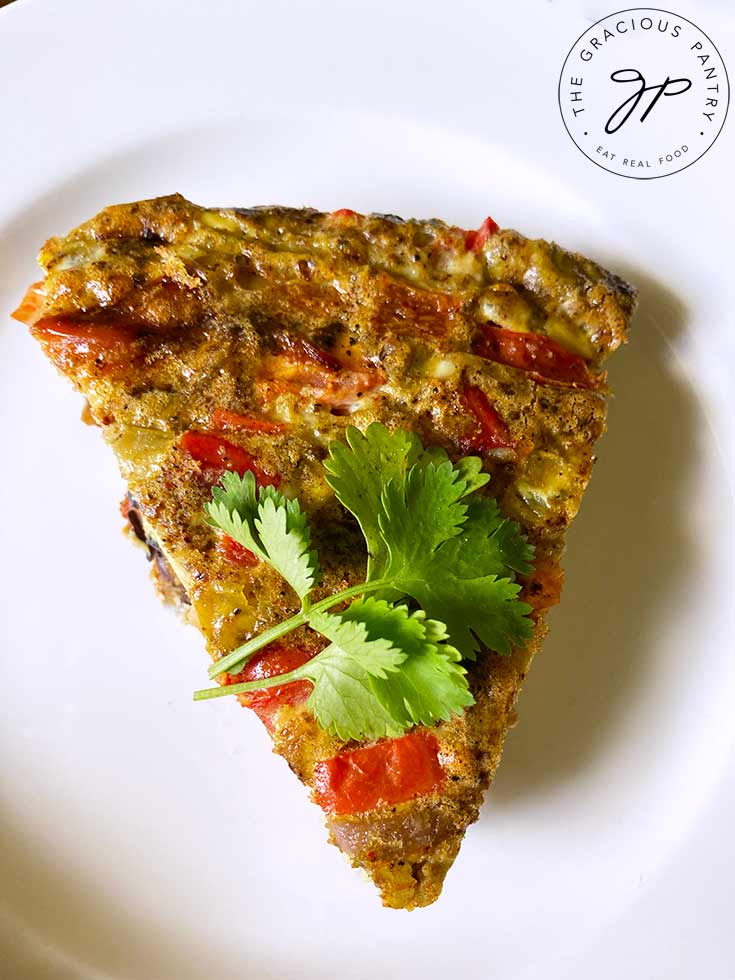 CAN CRUSTLESS QUICHE BE MADE AHEAD?
Absolutely! You can make them, store them in the fridge, and reheat them the next day. That being said, I wouldn't store them for longer than about 2-3 days max.
HOW LONG DOES CRUSTLESS QUICHE LAST?
The general consensus seems to be about 3-4 days. But I never go over 3 days because they just don't taste the same at that point. At least not to me.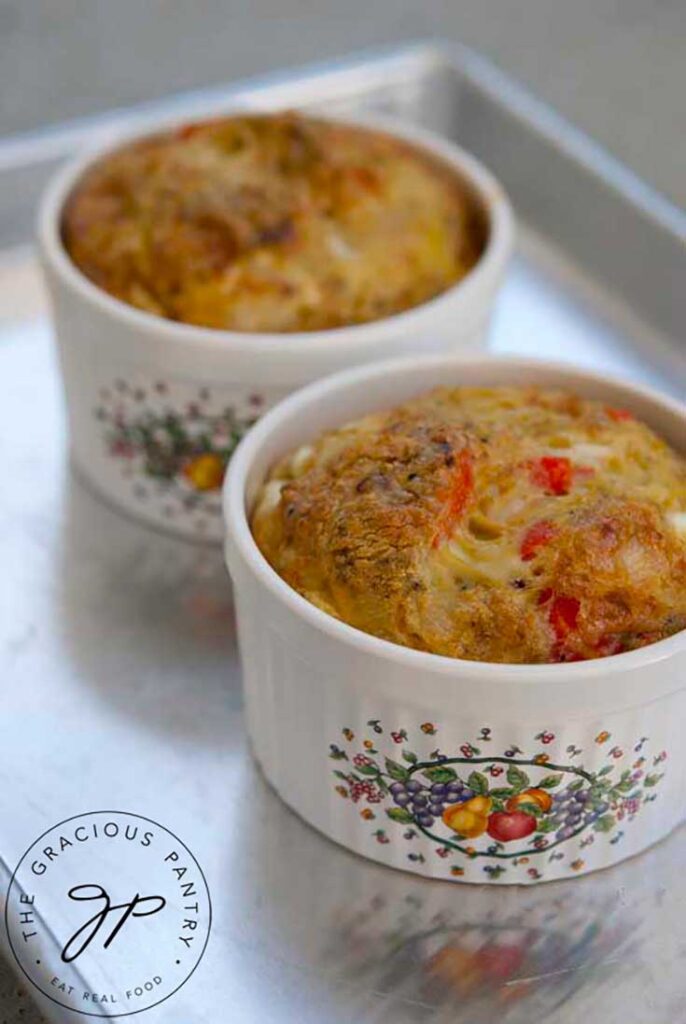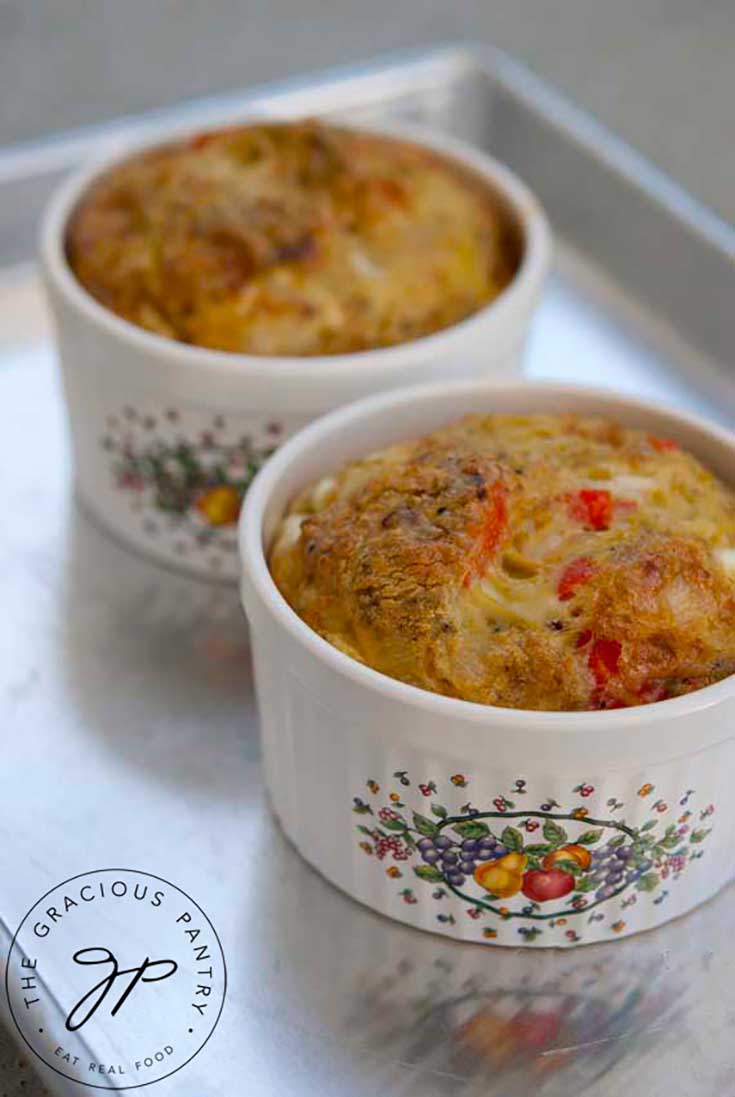 HOW DO YOU REHEAT CRUSTLESS QUICHE?
If you make these in the ramekins as instructed, just leave them in the dishes. Then simply place back onto a cookie sheet and warm them at 350 F. for about 15-20 minutes. You will also want to place some foil over the top to keep them from burning.
If you made these in muffin tins, return them to the tin and reheat in that.
Microwave reheating is not recommended, but possible. Try about 20 seconds and go from there.
Need Supplies?
MORE HEALTHY QUICHE RECIPES:
Southwestern Crustless Quiche Recipe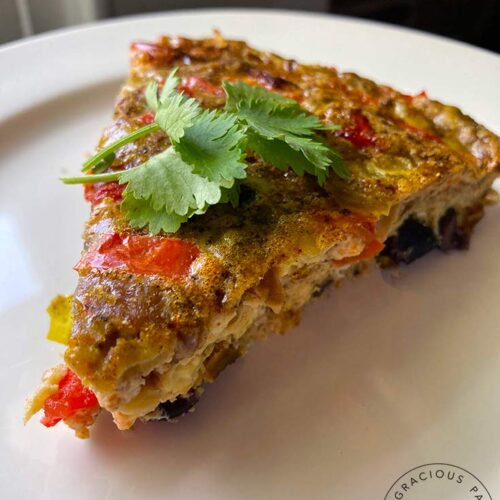 1

tbsp.

oil

(plus extra for oiling quiche pan)

½

cup

minced red onion

½

cup

minced red bell peppers

8

large

eggs

(lightly beaten)

1

cup

chopped tomatoes

1

cup

black beans

1

c

green chilis

2

tsp.

garlic granules

(or garlic powder)

1

tsp.

ground cumin

½

tsp.

chili powder

½

tsp.

salt

½

tsp

ground black pepper

½

cup

fresh, chopped cilantro

(optional)
Please note that the nutrition data given here is a ballpark figure. Exact data is not possible.
Serving: 0.5the recipe | Calories: 135kcal | Carbohydrates: 10g | Protein: 9g | Fat: 7g | Saturated Fat: 2g | Polyunsaturated Fat: 2g | Monounsaturated Fat: 3g | Trans Fat: 1g | Cholesterol: 186mg | Sodium: 284mg | Potassium: 246mg | Fiber: 3g | Sugar: 2g | Vitamin A: 827IU | Vitamin C: 18mg | Calcium: 43mg | Iron: 2mg
Recipe from the Gracious Pantry archives. Originally posted 6/17/13, and updated 7/13/21.

Source link