Cooking with Kids – OtterBox Makes it Easy!
Welcome to my page! I hope you enjoy making these easy and delicious recipes with your kids! We loved making this yummy Strawberry Cheesecake Smoothie. It's a fun snack and especially delicious this time of year when strawberries are starting to come into season.
I love using our iPad in the kitchen so my kids can follow the recipes online. The new OtterBox Kids Otterbox EasyGrab Tablet Case is built for the way kids use technology and is ergonomically designed to accommodate their growing hands. The stand is flexible so you can angle it different ways which makes it really easy to see the recipe without having to touch the screen – especially if there are sticky hands involved! Plus, it's super rugged and withstands the frequent use of cleaning and sanitizing wipes.
Keep scrolling for more delicious recipes to make with your kids while using the OtterBox Kids EasyGrab case! And check out the complete OtterBox Kids product line, including a Blue Light Guard Glass Screen Protector and durable EasyGrab Mobile Cables on otterbox.com.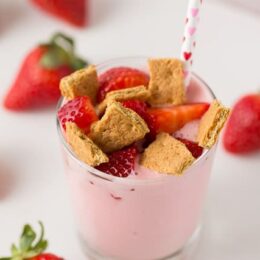 1

container (4 oz)

Greek Yogurt

1/4

cup

cottage cheese

1

cup

strawberries, frozen, unsweetened

1/3

cup

almond milk, unsweetened

1

tablespoon

honey
Calories: 129kcal | Carbohydrates: 20g | Protein: 10g | Fat: 2g | Saturated Fat: 1g | Cholesterol: 9mg | Sodium: 139mg | Fiber: 2g | Sugar: 15g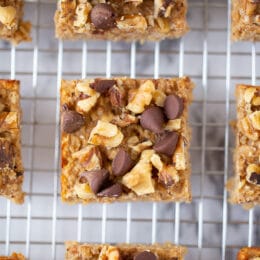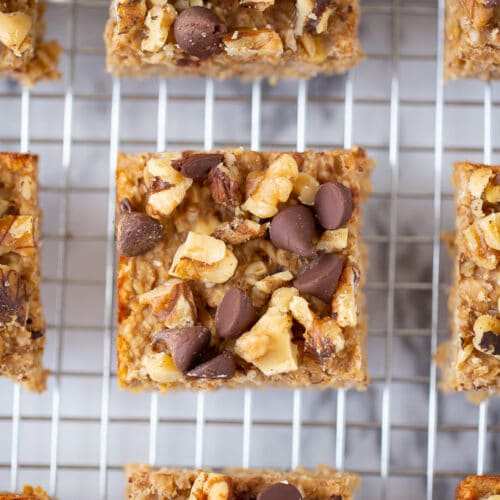 3

medium

banana

2

cup

oats, dry

6

tablespoon

peanut butter, all-natural
Toppings
1/4

cup

walnuts, chopped

2

tablespoons

chocolate chips, dark
Preheat oven to 350°F and line the bottom of an 8 x 8 inch glass dish with parchment paper. (We also used our fingers to grease the sides of the dish with coconut oil.)

Mash the bananas and mix together with oats and peanut butter.

Spread the dough evenly in the prepared dish, then sprinkle with walnuts and chocolate chips. Lightly press the nuts and chocolate into the bars.

Bake for 18-20 minutes or until an inserted toothpick comes out clean. Cool for 20 minutes in the pan, then slide a spatula under the parchment paper and carefully transfer the whole uncut bar onto a rack for further cooling. (You can cut the bars at this point, and eat them warm! The more time you give them to cool, the easier it will be to cut them.)
Calories: 200kcal | Carbohydrates: 27g | Protein: 7g | Fat: 8g | Saturated Fat: 2g | Sodium: 35mg | Fiber: 4g | Sugar: 5g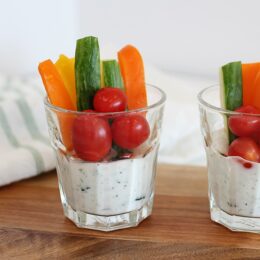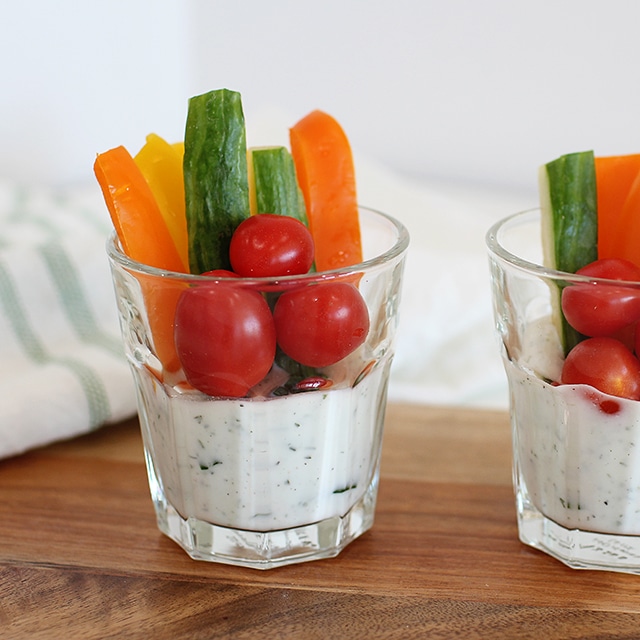 1

cup

Greek yogurt, plain

1/2

teaspoon

garlic powder

1/2

teaspoon

onion powder

1/2

teaspoon

parsley, dried

1/2

teaspoon

chives, dried

1/4

teaspoon

dill weed, dried

1

teaspoon

lemon juice

1/8

teaspoon

black pepper, ground

1/2

teaspoon

salt

1/4

cup

milk
Serve With
1

medium

bell pepper, orange

1

medium

bell pepper, yellow

1

medium

cucumber

1

cup

cherry tomatoes
Place all ingredients except the milk into a large mixing bowl. Mix until smooth and blended together. To reach desired consistency, add 1-2 tablespoons of milk at a time, thoroughly mixing after each addition of milk.

Slice peppers and cucumbers. Serve veggies with dip.
Calories: 111kcal | Carbohydrates: 13g | Protein: 8g | Fat: 4g | Saturated Fat: 2g | Cholesterol: 10mg | Sodium: 329mg | Fiber: 2g | Sugar: 6g