Cooking for One: 6 Creative Tips for Eating Well
Cooking for one involves unique challenges. Let's face it; you can only eat so many sandwiches, salads, and frozen entrees! Most recipes are written for 4-6 servings. This is frustrating, to say the least, and you deserve better! Here are 6 smart tips for eating and preparing healthy, well-balanced meals, even if you're the only one at the table!
6 Creative Tips for Eating Well
Tip #1:

  Cook with Mugs
Use ramekins (or mugs). These made-for-one dishes are oven and microwave-safe, and there is a large variety of both sweet and savory recipes for cooking in a mug.  Let's look at some dessert ideas because even health coaches enjoy dessert. Here are two flavor-filled ideas: 
Fruit Crisp Recipe
Ingredients:
1 apple (or pear)
1/4 cup flour or whole wheat flour (healthier)
1/4 cup sugar or brown sugar
2 tbsp butter melted or applesauce (healthier)
dash of cinnamon
Directions:
Preheat oven to 400. Cut up one apple or pear and place in a lightly greased ramekin.
Mix the flour, sugar, butter, and cinnamon.
Lay mixture on top of fruit and bake in the oven for 25 minutes.
*One word of advice, place ramekins on a baking sheet in case they cook over. You'll save yourself from a mess!
Microwave Chocolate Cake Recipe
Ingredients:
1/4 cup all-purpose flour or whole wheat flour
1/4 cup white sugar or coconut sugar
2 tablespoons unsweetened cocoa powder
1/8 teaspoon baking soda
1/8 teaspoon salt
3 tablespoons milk or milk substitute
2 tablespoons applesauce
1 tablespoon water
1/4 teaspoon vanilla extract
Directions:
Mix flour, sugar, cocoa powder, baking soda, and salt in a microwave-safe ramekin (or BIG mug); stir in milk, applesauce, water, and vanilla extract.
Cook in the microwave until the cake is done in the middle, about 1 minute 45 seconds.
Need more 'mug' ideas? Check out this list! 
Tip #2: Incorporate Eggs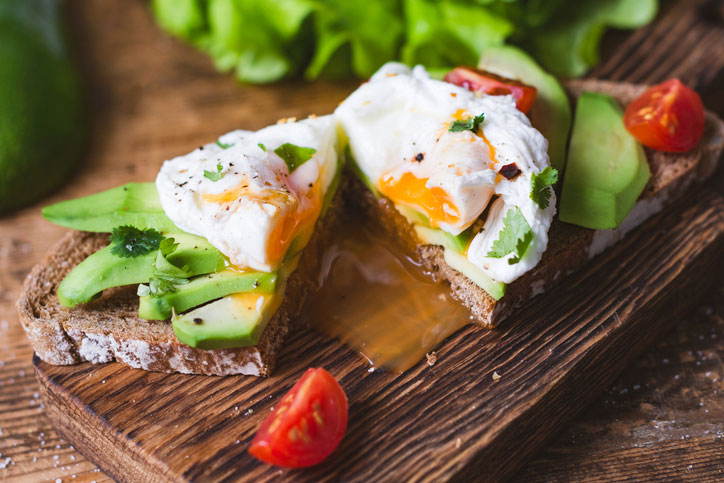 Consider the egg because it happens to be all the rage right now. Have you noticed a fried egg on pizza and hamburgers?! You can do it too, and there are a ton of ways to cook eggs to suit every style and meal. Here are a few ideas:
Fry an egg and place it over your favorite mixed vegetables.

Top a sunny-side-up over noodles with cherry tomatoes, then add parmesan cheese and pepper!

Scramble an egg or two with rice, add a few veggies (like broccoli and carrots), and season with soy sauce.

Poach an egg to have inside an English muffin, then add a slice of cheese and sliced avocado. Just the thought of this makes my mouth water!
One of the great things about eggs is they are healthy and come in a single-serving size.
Tip #3: Roast a Cornish Hen
Another item that comes in a single-serving size is a cornish hen, and the bonus is it's surprisingly easy to prepare. Just preheat an oven to 375 degrees and bake for an hour. Be sure to use a thermometer and make sure it reads 165 degrees! Here's a simple recipe.
Cornish Hen Recipe
Rub the outside of the hen with olive oil, add salt and pepper, place lemon wedges inside the cavity, and roast for about an hour. Peel and slice a carrot and potato to place under the bird and bake in a small pie plate or gratin dish for easier cleanup. That's it, and you have an amazing dish!
Tip #4: Shopping Shortcuts
Here are three tips for shopping and cooking for one.
Buy frozen vegetables; they taste fresh and last longer. Plus, you can use only what you need and put the rest back in the freezer.

Load up on dried goods like pasta, rice, lentils, quinoa, and oats. Store in airtight containers, and you'll be able to keep them for a few years.
Buy in the bulk bins!

 

This allows you to grab only what you need, and you'll be able to try a new ingredient before buying the whole container and deciding you don't like it! Grains, nuts, almond butter, and spices are just a few items you'll find in the bulk bins. Check it out next time you're at the grocery store.
Tip #5: Cook in Bulk
Cook in bulk and freeze single-serving meals once a month. This technique turns those recipes for four into about 20 different single meals you can enjoy for the rest of the month! It's worth the hassle and will save you from unhealthy eating when you're ravenous! Choose only the foods/recipes you love; that's the sweet part of cooking for yourself. Here's the plan for cooking in bulk, and a big bonus is that after shopping, you really only need a few hours to complete the process!
Choose five recipes you'd like to try (or already know you love). Here are a few ideas.
Make a shopping list and sort your ingredients by 'aisle' (produce, meat, dairy, dry goods, etc.). That way, you won't forget an ingredient. Don't forget to purchase the freezer-friendly containers you'll need for the different portions. Tupperware has a great line, especially for freezing food. You can also check out

ziplock versa glass containers

for better freezing of single meals.

Make sure your meals are balanced with proteins and complex carbohydrates. Think leafy greens and healthy fats (no trans fats)!

Choose an afternoon or morning to prepare your five recipes or split the process into different time sections. For example, take an hour in the morning to chop, dice, and prepare the ingredients, take a break, and then finish in the afternoon or the next day!

Divide into single-size portions in your ready-to-go containers and LABEL them with the date and contents. Include directions if you need them!

Place your containers in the freezer, and you have a variety of 20 single meals for the whole month.

When you're ready to eat, simply place your frozen entree in the oven and follow the directions for preparation (make sure it's cooked all the way through). Most of the recipes you'll be making will already be cooked, so it's really just heating them. The oven is the preferred way to heat a frozen meal, but a microwave will work in a flash. 
Tip #6: Use Your Leftovers to Create New Meals
Bulk cooking just isn't the way to go for some people. I get it. Go ahead and make a bigger meal, knowing you'll have leftovers, and then use your leftovers the next day in a creative way! 
For example, if you made meatloaf on Sunday, why not use the leftover meat for spaghetti and meatballs on Monday? Or maybe you roasted (or bought!) a whole chicken for a meal with broccoli as your side. Why not make chicken and broccoli quesadillas the next day? I can honestly say I've made quesadillas out of just about anything, and in my humble opinion, everything tastes pretty delicious with cheese. Another example of creative leftover use is topping a small, single serving of baked flatbread with salad leftovers! Of course, any vegetable that is starting 'to turn' can be put in a pot with some chicken or beef stock. Then, if you add rice or noodles, voila! You've got a soup du jour!
Here is another great link for super easy and healthy meals you can make in minutes! I can't wait to try a few myself, and I'm sure you'll find a few options to enjoy.
Cooking for one can be pleasurable and gratifying. Turn on your favorite tunes and pour yourself a beverage in a flute or wine glass. If wine or bubbly aren't your preferred drink, you'll find that even non-alcoholic drinks are just more fun in a fancy glass. Try Perrier with an orange slice; it's lovely. Get out the cloth napkins and treat yourself because you are worth it!
Read Next:
Steel Cut Vs. Rolled Oats – Which is Better?
10 Magical Herbs to Soothe Stress and Anxiety
Did you like this article? Sign up (it's free!) and we'll send you great articles like this every week. Subscribe for free here.
Published at Wed, 14 Apr 2021 18:00:28 +0000