[ad_1]

Alabama
Birth Doula
Colleen Tullis
251.510.8540
motherscomfort [at] comcast.net
Mobile AL area
Brandice Senecal, Doula
Joy N' Birth Pregnancy and Doula Services
Florence, AL- Serving North West Alabama
www.joynbirth.com
256-394-6438
brandice@joynbirth.com
Joy N' Birth offers Doula Services, Childbirth Education, Lactation Education, and Fertility Classes. Birth Tub Rentals available.
Labor of Love Birth Services
Fredia Nelms, RN
Birmingham, Alabama
205-514-4874
jf_nelms [at] yahoo.com
Natural Childbirth Classes, Doula Services, Breastfeeding Support, Newborn Care
~~~~~~~~~~~~~~~~~~~~~~~~~~~~~~~~~~~~
Alaska
Balli BirthingM
Serving Anchorage, Alaska
Giving women power and confidence in their pregnancy, Balli Birthing specializes in natural childbirth education classes. Come join us for your childbirth education class!
www.BalliBirthing.com
Birth Doula
Alisa Parrent
907.745.8438
blessingsfromthewomb [at] yahoo.com
Anchorage AK area
Birth Alaska
Cindy Earley-Steinke
Anchorage, Alaska
http://www.birthalaska.com
907-344-6210
arcticmama@gci.net
Offering 12 weeks of natural childbirth preparation, and doula services
~~~~~~~~~~~~~~~~~~~~~~~~~~~~~~~~~~~~
Arizona
Ashley Chiropractic
Dr. Ashley Waggoner, D.C.
Serving Mesa, Queen Creek, Chandler, Tempe, Phoenix Metro Area, East Valley.
www.ashley-chiropractic.com
480-259-0064
At Ashley Chiropractic Wellness Center we take your health care personally. We aim to help you become healthy through tailor made health action plans created by YOU and Dr. Ashley. The outcomes of our care are based on your GOALS and not symptoms and sickness measures. As our patient, you will receive the most updated care in a safe and comfortable environment. You will be listened to and respected. Your questions will be answered, and your concerns will be addressed.
AZ Birth Doulas, LLC
Elizabeth Blitz RN, BSN, CD, CPES
Phoenix, AZ and surrounding areas
www.azbirthdoulas.com
www.azplacentaencapsulation.com
480-678-9574
I offer birth doula support, placenta encapsulation services, and professional birth plan development assistance.
Birth Doula
Kathryn Marcuson
480.636.1202
marcuson [at] cox.net
Mesa AZ area
Birth Rite
Childbirth, Breastfeeding and Newborn care instruction.
Scottsdale,Paradise Valley, Anthem
www.birthriteaz.com
480-488-8710
Private instruction provided by RN certfied in Childbirth and Lactation Education.
Jacobson Family Chiropractic
Dr Karen R Jacobson
9160 E Shea Blvd, ste 107
Scottsdale AZ 85260
480.657.3600
www.drhelth.com
Pregnancy & Pediatric Care
Certified in Webster Utero Constraint Maneuver for Breech presentation
Natural Blessings Doula and Encapsulation Services
BreAnna Ledner
Serving all of Phoenix valley
www.anaturalblessing.webs.com
(480)510-6751
Doula/Labor suppot and Professional Placenta Encapsulationist trained in Raw and TCM
NaturallyBirthing
Wendy Diaz
Maricopa county, Arizona
www.naturallybirthing.webs.com
(480) 641-9198
I am a certified Placenta Encapsulation Specialist as well as a Fully affiliated Bradley Method instructor. I also sell Amber jewelry for moms and babies.
Wild Baby Birthing Services
Jayme Wild
Laveen, AZ
http://wildbabybirths.webs.com
602-321-2360
Antenatal, birth, and postpartum doula services, childbirth classes, placenta encapsulation, henna art, and more!
~~~~~~~~~~~~~~~~~~~~~~~~~~~~~~~~~~~~
Arkansas
Birth Doula
Dena Jones
501.626.1954
EADAJones [at] aol.com
Little Rock AR area
~~~~~~~~~~~~~~~~~~~~~~~~~~~~~~~~~~~~
California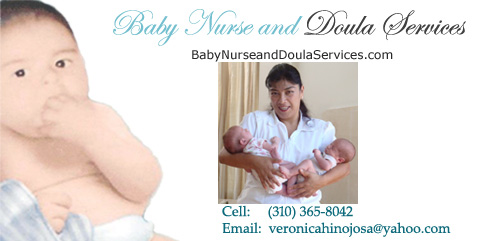 Baby Nurse and Doula Services
Serving the Greater Los Angeles area, South Bay and Orange County
www.BabyNurseandDoulaServices.com
Contact Veronica Hinojosa at: 310.365.8042
Postpartum Doula Services
Infant Care Specialist
Baby Nurse Services
Infant Sleep Training
A La Mode Photo/Heather Hart
Serving the Los Angeles area, San Francisco and the nation
www.alamodephoto.com
Tel: 310-770-2676
Heather Hart of A La Mode Photo provides fine art portrait photography focusing on maternity, newborn as well as birthing photography. For her maternity shoots, Heather provides all wardrobe and makes her clients into beautiful belly models for the day. Heather creates memories that last a lifetime and provides her clients a wonderful experience in addition to beautiful photography. She is the only photographer who has been featured on Good Morning America, Dr. Phil, CBS The Early Show & most recently, Platinum Babies.
Ancient Paths Midwifery
Birth Center, water birth, prenatal massage, childbirth education and massage doula services.
Located in Chino, CA
www.ancientpathsmidwifery.com
(909) 464-0974
We offer care for the childbearing years; well woman, prenatal,newborn and postpartum care, birth at our center or in your home, and specialize in water birth.
Avocado Baby
Stacy Lewis, B.A. Ed., CBRE
I teach natural childbirth classes and am certified with Brio Birth. I am offering doula services on a limited schedule. I will be fully certified with DONA this year, 2011.
Serving Inland Empire, CA: Cities include: Fontana, Rancho Cucamonga, Upland, Ontario
www.avocadobaby.webs.com
909-510-9867
Baby 1st Doula
I serve the San Joaquin and Sacramento Valley in California
I am a certified birth doula 209-759-3214
website http://babys1stdoula.com/
Beach City Doula
Lysa Quealy, CD(DONA), CMT, HCHD
Serving the South Bay, Beach Cities and surrounding areas
www.BeachCityDoula.com
(310) 831-5700
We provide Birth Doula Services and Pregnancy Massage to expecting mothers.
Belly Laughs Doula & Birth Services
Maggie Jennings
Serving San Diego & Riverside Counties
www.bellylaughsdoula.com
760.215.2980
As a DONA-trained doula and a Lamaze Certified Childbirth Educator, I hope to help families have the birth experience that they desire.
Birth Peace
Usha Tunnell
Serving the Greater San Diego Area
www.birthpeace.net
info@birthpeace.net
(760) 807-2598
Providing group and private Hypnobabies classes, Hypno-doula services and trainings.
BlossomBelly Birth Doula Services
Susan Collum, HCHD
Serving Santa Cruz, CA and the surrounding Bay Area
www.blossombelly.com
831.704.6166
Trained labor doula (DONA), Certified Hypno-Doula (Hypnobabies), providing professional support for mothers and partners as your childbearing year unfolds and blossoms.
Brio Birth Natural Childbirth Classes
Serving the Antelope Valley in Southern California
http://allnaturalbaby.blogspot.com or http://www.briobirth.com
661-273-4956
Teaching natural childbirth classes for over 22 years. Mother of six children.
Claudia Perez Brooks
Experienced Advanced Doula (Labor Coach) and Midwive's Assistant
Over 14 Years of Experience, over 150 births. Silent & gentle natural birth. Birth plans, patient advocacy, classes, etc.
818.271.9737
silentbirthdoula [at] gmail.com
gentlebirthorg [at] gmail.com
Creekside Women's Healthcare
Marilyn Steinberg,Certified Nurse-Midwife and Pediatric Nurse Practitioner
Serving women of the Sierra foothill communities of Fresno, Madera and Mariposa counties for over 20 years.
I provide homebirth services including waterbirth. Please see my website: www.creeksidemidwife.com
EmmyJeanne
Photography
Emily Merrill, Maternity Photographer
Serving San Francisco and the Bay Area
www.emmyjeannephotography.com
emily [at] emilymerrill.com
EmmyJeanne Photography provides expecting mothers with personal and
beautiful maternity photography. 
Godin Birth Services
Kendra Godin
Serving San Diego County
www.godinbirthservices.weebly.com
619.277.4030
Childbirth Classes and Birth Doula Services.
Hand and Heart
Doula Services
Joni Lucarelli, CD(DONA)
Serving Los Angeles and Orange Counties
626-390-0085
justjoni2 [at] gmail.com
www.handandheartdoula.com
Providing
women and their partners with support and confidence so they can
experience childbirth as the celebration it is meant to be!
Integrative
Childbirth Services
www.integrativechildbirth.com
doularena [at] integrativechildbirth.com
562.925.6948
(Los Angeles and Orange County and the South Bay)
Bringing Knowledge and Compassion to the Birthing Place
Trained in a variety of supportive techniques, I hold dual
certification with CAPPA/DONA as a Birth Doula, Certified Childbirth
Educator, Certified Happiest Baby Instructor, Reiki Practitioner, and
CAPPA Certified Labor Doula Trainer. Priding myself on being an
excellent informational resource to newly expectant mothers and their
partners.
Katharine Deeb, Birth Doula
www.dareallalucedoula.com
310.528.7753
Los Angeles/Located on the Westside
My goal is to provide a nurturing, empowering, and calming presence to help the laboring mother achieve the birth experience she desires.
Labor of Love Doula Services
Shannon Santamaria
I serve the Los Angeles, Antelope Valley, San Gabriel Valley, Santa Clarita Valley, and surrounding areas.
www.shannonmydoula.com
I'm a birth doula offering support to moms and dads through the labor and delivery process. Your Delivery, Your Way!
Linnea Lenkus Fine Art Portrait Studios
Serving the Los Angeles area with studios in Long Beach and Pasadena
www.LinneaLenkus.com
(562) 981-8900 or (626) 744-9104
Linnea Lenkus is a fine art studio photographer photographing babies, pregnancy, fine art nudes, couples, family, children and pets.
MotherBirth
Brooke Myung
Serving Modesto (California) and surrounding areas
www.Mother-Birth.com
Brooke [at] mother-birth.com
Trained and attending births since 2001, I attend births as a labor doula and provide postpartum and breastfeeding support.
Mother Blooming Birth Services
Adriann Walker CPM
I offer Homebirth in the Greater Los Angeles area, and hospital support as a Birth Doula or Monitrice
motherblooming.com
626-344-7874
Mother Blooming Birth Services is committed to supporting women by holding a safe space for them as they are transformed by pregnancy and childbirth into mothers, and families are born.
Nurtured Belly Birth Services
Angela Leon
Serving Los Angeles, Orange, and San Bernardino Counties in California
http://nurturedbelly.webs.com
www.facebook.com/NurturedBellyDoula
562-922-4323
Offering Birth and Postpartum Doula Services and Placenta Encapsulation Services
Paula Schnebelt
LM CPM
paula [at] heartofmidwifery.com
www.heartofmidwifery.com
707.287.2822
Providing complete midwifery care, including homebirth, waterbirth,
doula and well-woman services in Napa, Sonoma, Lake, Solano, Marin and
Mendocino counties in Northern California.
Shoots &
Giggles Photography
7119 W. Sunset Blvd., Suite 256
Los Angeles, CA 90046
info [at] shootsandgiggles.com
www.shootsandgiggles.com
Shoots and Giggles Photography
has two birth photographers on call 24 hours a day, 7 days a week ready
to photograph your newest arrival. We strive for the utmost in
creative, sensitive birth photographs and get so much joy capturing
couples becoming parents and children meeting their siblings for the
very first time. Serving Los Angeles and Orange County.

Special Moments Midwifery Care
Del Balgas LM CPM
www.bestbirths.webs.com
714 450-0069
Midwife and Home Birth services including water birth
monthly vbac support group and midwife meets.
Supported Birth
Serving Los Angeles and West Los Angeles
www.supportedbirth.com
(310) 445-5060
Childbirth Education and Doula Training
Susan P Marie
Certified Birth/Postpartum Doula, Certified Hypnotherapist, Certified Reiki Master/Teacher, Pranic Healer
Serving Inland Empire, Riverside, CA
website: www.susanpmarie.com
510-612-7144
Birth Doula Packages, Childbirth Prep, Healing for Birth Trauma
Womb Service
Nova Bella DeLovely
Serving San Diego
www.WombService.com
619.398.5683
DONA certified labor and postpartum doula
Certified lactation counselor (CLC)
Maternity and new family photography
Childbirth education and more…
Zenia Photography
Serving Los Angeles and Orange County
www.zeniaphotography.com
(310) 751-0615
Zenia Photography aims to capture your baby's birth creatively and photojournalistically. Please visit the website for the birth portfolio and pricing.
~~~~~~~~~~~~~~~~~~~~~~~~~~~~~~~~~~~~
Colorado
Babies at Home
Lori Wilson RM
2211 N. Weber
Colorado Springs, CO 80907
http://lorimidwife.tripod.com
719-460-6463
Complete midwifery care. Postpartum and newborn care. Waterbirth.
Ultrasound available.
Great Blessings Doula Services, LLC
Christina Smyth
DONA certifying Birth Doula
DONA certifying Postpartum Doula
Christian Childbirth Educator
Serving Northern Colorado
Providing birth and postpartum care and Christian Childbirth education to growing families.
(970) 978-7235
ninaskids@greatblessingsdoulaservices.com
www.greatblessingsdoulaservices.com

Holistic
Homebirth, LLC
Jessica Nipp CPM, RM, ND, LMT
6873 Prince Drive
Colorado Springs, CO 80918
HolisticHomeBirth [at] yahoo.com
719.661.9028
Services include prenatal, postpartum and birth care with infant
massage, nutritional counseling,
homebirth education classes,
waterbirth, ultrasound, lab work and midwifery care.
Candace McCollett,
CBE, CLD
Candace [at] westsidebirthconnection.com
Childbirth Educator, Birth Doula, Midwife Assistant
719.213.3740
The Westside Birth Connection
www.westsidebirthconnection.com
Serving Colorado Springs, Pueblo and the Pikes Peak Region
Safe Passage Birth and Breastfeeding Services
Gina Gerboth, RM, CPM, IBCLC
Serving Pueblo, Colorado and the surrounding areas
www.safepassagebirth.com
719-369-4368
I offer homebirth midwifery care, doula care for home or hospital birth, lactation consultation, and childbirth education.
~~~~~~~~~~~~~~~~~~~~~~~~~~~~~~~~~~~~
Connecticut

Birth Photography
Images by Kristen Taylor
Capturing the very first moments of a new family!
imagesbykristentaylor [at] gmail.com
www.imagesbykristentaylor.com
Serving the area of Central Connecticut and those within a 25 mile
radius
 
Hypnobirthing
of Connecticut

Cynthia Overgard, MBA HBCE
Serving Stamford, CT and surrounding areas
Cynthia [at] HypnobirthingCT.com
203.952.7299
~~~~~~~~~~~~~~~~~~~~~~~~~~~~~~~~~~~~
Delaware

Holistic
Midwifery
Susan DiNatale
Serving Dover, Delaware and surronding areas
302.697.3018
302.359.8850
Wee Wonders Doulas
Wendy Mathews
Serving De, Pa, Nj, Md
www.weewondersdoulas.com
302 275-7799
I provide Birth, Sibling and Postpartum Doula services. I also offer lactation support, placenta encapsulation, cloth diapering and baby wearing classes.
~~~~~~~~~~~~~~~~~~~~~~~~~~~~~~~~~~~~
Florida
A New Life Beings-Doula & Pregnancy Services
Hallie Dedrick, CLD, CCCE, CHBE
Serving Families in the Tampa Bay Area, FL
www.anewlifebeginsdoula.com
Labor Doula Services, Childbirth Education (Group & Private)
Baby Love Birth Center
3046 Del Prado Blvd S. #2E
Cape Coral, FL
239.540.9010
www.waterbirthbaby.com
Complete prenatal and gyn care. Birth Center birth in private birth suites. Hospital Birth at Cape Coral Hospital. Free Breastfeeding and Nutrition Classes. Hypnobirthing Classes. Waterbirth.
Birth Doula CD(DONA)
Sharain Santalla
Serving Miami Dade, Broward and The Florida Keys
www.ItalPath.com
305 951 0577
info@italpath.com
I provide doula care, Birthing from Within child birth preparation classes and Pre Natal yoga.
Cecilia Mitchell Miller
Birth Your Way Childbirth Education and Doula Services
Jacksonville, Florida birthyourwayjax@bellsouth.net
http://birthyourwayjax.com
(904) 268-9636
(904) 334-2654
Affiliated/certified Bradley childbirth educator and DONA-trained birth doula serving the greater Jacksonville area
Chara Doula…the joyful servant
Carrie Farris
Serving Jacksonville, FL and surrounding areas.
www.charadoula.com
(904)881-5773
Birth doula and custom birth announcements
Family Birth Center of Naples
info [at] naplesbirthcenter.com
www.naplesbirthcenter.com
Serving the Naples, Florida area
We are a freestanding birth center offering full maternity care, labor, delivery and postpartm services. Also offering nutrition, natural childbirth, breastfeeding and newborn classes. We support women through every stage of the childbearing year through education and quality midwifery care.
Gentle Birth Options, LLC
Homebirth and Women's Health Services
Serving NW Florida Panhandle
www.gentlemidwifery.com
850.279.6778
Office located in Niceville, FL offering full prenatal and well woman care as well as home birth and lactation support.
HypnoBirthing Childbirth Education Classes
8th Avenue North
Naples, Florida
239-298-1389
smouyos@yahoo.com
Kristin Suter
Baby's Breath Doula Services & Postpartum Support
Jacksonville, Florida
www.babysbreathdoula.com
904.608.1069
sutermama [at] gmail.com
I offer pregnancy, birth and postpartum support.
HypnoBirthing Classes
Cori Calkins, PsyD, HBCE
Serving Ft. Myers, Cape Coral, Bonita Springs and surrounding areas in Florida.
239.561.9955
Helping mothers and partners experience the calm and positive birth they hope for.
Jaclyn Sieben, RN, CLC, CCCE, CH, HBCE
nursejaci [at] bonitabirthingsolutions.com
239.405.7972
www.bonitabirthingsolutions.com
Serving women and families in SW Florida through birth and beyond with Hypnosis for Fertility, Evidence Based Childbirth Classes, HypnoBirthing, Doula Services, Lactation Counseling, Breastpump Sales, Accessories, Rentals and more
Loving Creations Doula Services, LLC
Zeresh Altork, CD(DONA), HCHD, CBE, M.Ed.
Serving South Florida
Childbirth Education and Labor Support
www.lcdoulaservices.com
561-843-6154
Magical Heart Prenatal Yoga, Doula and Childbirth Education
DeAnna Alvarez
www.MagicalHeartDoula.com
305-299-7826
I offer holistic preparation for birth through Prenatal Yoga, Birthing From Within Childbirth Education Classes, Birth Doula services at home and hospital and Placenta Encapsulation… helping women from the Upper Florida Keys throughout Miami and Key Biscayne.
Mindful Birth FLM
Christine Ghali
Serving Fort Myers, Naples, Cape Coral and surrounding areas.
www.mindfulbirthfl.com
239-560-2403
Offering Birthing From Within® childbirth preparation classes.
Zion Birthing
Ministries
4722 N.W. 2 Avenue # c-108
Boca Raton, FL 33431
561.330.0993
Serving Palm Beach and Broward counties including Greenacres,
Lake Worth,
Lantana, Boynton Beach, Delray Beach, Deerfield Beach,
Pompano Beach,
Coral Springs , Fort Lauderdale and surrouding areas.
~~~~~~~~~~~~~~~~~~~~~~~~~~~~~~~~~~~~
Georgia
A Mother's Peace (Ameena Ali)
Ameena Ali, PhD, CD-B/P, VLM
404.441.1894 (Talk and Text)
amotherspeace [at] gmail.com
www.facebook.com/amotherspeace
Midwifery Services and Doula Support and Education. We specialize in Orgasmic, Home and Water birthing. Classes are offered in Prenatal, Labor and Birth Doula, Daddy Doula as well as Lactation counseling and Postpartum wellness.
By Your Side
Dianne Lentine
serving all of Metro Atlanta including Gwinnett county and Athens
404.667.3870
Birth Doula and Childbirth Educator
CLD, CCCE CAPPA
12 yrs and over 150 births
South Georgia Birth
Services
P.O. Box 1544
Thomasville GA 31799
229.227.9194
Serving the Southern Georgia area
~~~~~~~~~~~~~~~~~~~~~~~~~~~~~~~~~~~~
Hawaii
Amma Mary Birth
Services
PO Box 6921
Kamuela, Hawaii  96743
808.443.7877
www.ammamary.com
Independent Childbirth Educator
Birth & Postpartum Doula
Natural Family Living Advocate
Located on the Big Island of Hawaii
Talk Story Midwifery
Miriam Abrin NP
3221 East Maona Road
Honolulu HI 96822
808.255.4393
~~~~~~~~~~~~~~~~~~~~~~~~~~~~~~~~~~~~
Idaho
Fruitful Vine
Midwifery
3961 Darby Rd
Moscow ID 83843
509.338.2611
Immaculate Inceptions
Angela Hancock, CBRE
Serving the Boise area
http://www.immaculateinceptions.com
Immaculate Inceptions offers Brio Birth childbirth classes, information on toxins in personal care products, and non-toxic alternatives.
~~~~~~~~~~~~~~~~~~~~~~~~~~~~~~~~~~~~
Illinois
Amanda Palmer, Birth Doula
Offering Birth Doula services to women in Bloomington-Normal, IL and the Central Illinois area.
youdeserveadoula@gmail.com
(309)310-5096
A doula supports a woman and her partner during
pregnancy, birth, and the early weeks of parenting,
with reassurance, practical assistance, and
information.
Please contact me to arrange a free interview!
BirthLink Network – Chicagoland
Jo Anne Lindberg MEd, ABT, President & Founder
Serving Chicago and all surrounding suburbs.
www.birthlink.com
847-733-8050
bestbirth [at] birthlink.com
Free referrals to many local practitioners. We educate parents so they can make informed decisions. Wellness care serving all ages. Birth options consultations for parents who want happy, healthy beginnings.
Birthways Labor Support and Postpartum Doulas
Serving the Chicagoland area
www.birthwaysinc.com
888.506.0607
Chicago's oldest and largest community of doulas. We are committed to helping families feel confident and supported during pregnancy, birth and early parenting.
Our care includes labor support, postpartum care, childbirth education, pre- and post-natal massage, infant massage, new parenting classes and more.
Center of Birthing Transformation
Tanya C. Mchale, RN, CH
Serving Chicago and all surrounding suburbs.
http://birthtransformation.squarespace.com
708.725.3025
I am a Labor Monitrice (doula + RN) & Hypnotherapist who has been working in Maternal-Child Health since 1984, has been a Childbirth Educator since 1988, and has attended over 1400 births. Services also available for breech turn naturally.

Childbirth the Way Nature Intended
Debbie Boucher, RN, CD, AAHCC
401 Garfield Avenue
Libertyville IL 60048
847.816.4640
doula [at] yourbirth.com
education [at] yourbirth.com
Dove Doula
Services, Lori Beth Geils
Providing
Professional Labor Support and Postpartum Doula Care in the Chicagoland
Area. I also provide Natural Childbirth Classes both in group and
individual settings.
Lori Beth Geils specializes in Home &
Hospital Natural Births, VBACs, waterbirths, Multiples, Overnights and
Lactation Support.
Please call me at (800)801-5652 for more information on availability
and rates.
dovedoula [at] yahoo.com

Joyful Journey
Doula Services and Childbirth Education
Libertyville, Illinois
847-571-0973
www.joyfuljourneydoula.com
Offering doula services and classes in Childbirth, Healthy Pregnancy,
Cloth Diapering, Babywearing and more in Libertyville, Illinois
(and surrounding areas, including Lake County, and
north/northwest Chicagoland)
Rebecca Lepsik
www.rootedinlovedoula.com
I am a Birth Doula, offering services in Chicago and Chicagoland area. I am certified by Midwest Maternal Child Institute, and trained by DONA. Please see my website for more information.
Robin Ross
I am a Certified HypnoBirthing Practitioner and Birth Doula. I service the greater Chicagoland area in Illinois including the suburbs.
I can be contacted at blissfulbirths1312@yahoo.com and 630-723-4031
I offer both group and private instruction in HypnoBirthing. Mother and birth companion will learn relaxation, visualization, and breathing techiniques to have a calm and gentle birthing experience. Through in class instruction and at home practice, the mother will gain confidence to trust in her body and baby to birht as nature intended. Please contact me for more information.
Wise Women Birth Services
Dionne Otto
Doula, LCCE, CLC, CHBE
Serving Bloomington/Normal and the Central Illinois
www.wisewomenbirthservices.com
309.706.9881
I provide services for couples, teens, homeless women, surrogacy, adoption, and same sex couples. I have been a doula since 2001 and have attended over 300 births. I have been a childbirth educator since 2007.
~~~~~~~~~~~~~~~~~~~~~~~~~~~~~~~~~~~~
Indiana
Betsy Baker, CNM
836 East 86th St
Indianapolis IN 46240
317.258.0356
~~~~~~~~~~~~~~~~~~~~~~~~~~~~~~~~~~~~
Iowa
Birth Options
Cedar Rapids IA 52402
319.294.7029
Serving the Cedar Rapids, Robins, and Iowa City areas
Bamboo Birth
Services- Doula
Jun-Nicole Matsushita
www.bamboobirth.com
Specializing in Hypnobirths and Active Births
Serving Iowa City and Coralville, Iowa
New Creation Photography & Design
Laura Eckert
Cedar Rapids/Iowa City, IA
www.NewCreationPhotography.com
www.facebook.com/NewCreationPhotography
New Creation Photography provides birth photography at its finest! Don't miss a single moment of your precious arrival's special day. Amazing photos, amazing price. Contact me today for more details!
Serenity Birthing
Sarah Bradbury CNM
Homebirth in Sioux City IA region
www.serenityhomebirth.com
~~~~~~~~~~~~~~~~~~~~~~~~~~~~~~~~~~~~
Kansas
Brio Birth Childbirth Classes
Amber Lehrman, CBBE
Classes taught in Lawrence Kansas
www.lawrencebriobirth.com
785.842.2686
My Brio Birth class will prepare and educate you about all aspects of labor and birth. You will learn how to work with your partner and birth team to have a healthy and positive birth. You will also learn about the natural process and why it is best for moms and babies.
Christian Childbirth Services, LLC
Adalheid Faith, CCBE CCLD
Greater Kansas City area (Kansas and Missouri)
www.kcchristiandoula.ning.com
816.878.1864
Providing evidence-based, biblical support for pregnancy, birth, and early postpartum. Also providing specialized newborn adoption services.
Kara Rowley, CPM
Wichita, Kansas
316.204.2238
karamidwife [at] gmail.com
www.karamidwife.com
Precious Beginnings Midwifery Care
Bethany Wagler, CPM
Serving central Kansas
www.preciousbeginningsmidwifery.com
620.259.9886
Bethany enjoys supporting women as they achieve their personal pregnancy and birth goals, whether that is a vaginal birth after cesarean (VBAC), a water birth, or simply giving birth in the comfort of their own home. She is a Certified Breastfeeding Educator and serves on the board of the Kansas Midwives Association.
~~~~~~~~~~~~~~~~~~~~~~~~~~~~~~~~~~~~
Kentucky
Mother's Wisdom
Juliet Dietsch DEM
1913 Buttonwood Road
Louisville KY 40222
502.327.7266
~~~~~~~~~~~~~~~~~~~~~~~~~~~~~~~~~~~~
Louisiana
Acandiana Midwifery
Services LLC
Cathy Acree LM CPM
183 Steiner Rd #117
Lafayette LA 70508
337.993.8192
Louisiana Natural Birth
Organizer: Amy Shamburger
www.louisiananaturalbirth.com
We offer a place to find support, resources, and information about birthing naturally in any setting. We cover the state of Louisiana. There are monthly meetups in different areas of the state, an active message board where members can ask questions and share personal stories, and a listing of birth professionals in our About section which are consumer-backed references.
~~~~~~~~~~~~~~~~~~~~~~~~~~~~~~~~~~~~
Maine
Women's Nature:
Hypnobirthing
P.O. Box 723
Bath ME 04530
207.751.8484
~~~~~~~~~~~~~~~~~~~~~~~~~~~~~~~~~~~~
Maryland
Birth You Desire
Ursula Sabia Sukinik
Maryland, Nothern Virginia and the District of Columbia
BirthYouDesire.com
301.231-5122
My goal is to help you toward a safe, healthy, and joyous birth.
The Dancing Doula
Jennifer Gooding
Arnold MD 21012
410.757.8860
LDS Doula
lareun [at] LDSDoula.com
Serving Pregnant Mommies-To-Be in Baltimore, Carroll, Harford, Howard, Frederick Counties in Maryland since 2003. Birth Doula, Placenta Encapsulation, and Birth, Maternity, and Newborn Photography services available.
Leigh Childbirth Services
Lorrie Leigh, Brio Birth childbirth educator, CAPPA trained lactation educator, Doula and Birth Assistant
Maryland, DC, Northern VA
443-545-5303
I offer Brio Birth natural childbirth class series, a Breastfeeding 101 class and labor support services. Private classes may be possible for those late in pregnancy or with scheduling issues.
Special Moments
5332 Carroll Warehime Rd
Manchester MD 21102
410.374.9565
Serving the Annapolis, Bel Air, Bowie, Cockeysville, Hereford,
Frederick, Aberdeen, Abingdon, Baltimore, Towson, and Germantown areas
as well as New Freedom, Harrisburg and York Pennsylvania
Trusting Our Bodies
Jessica Groves, CBRE, toLabor – Certified Labor Assistant
Serving Central Maryland, Southern Pennsylvania
www.TrustingOurBodies.com
Jessica@TrustingOurBodies.com
I'm a certified Brio Birth natural childbirth educator and certified toLabor birth doula, midwifery student and mother of 4, including one angel baby. I have worked with over 100 women seeking natural birth support and education attending most births in the home or birth center setting but also hospital births as well. My clients have a 98% unmedicated birth rate when giving birth vaginally. I specialize in VBAC support.
~~~~~~~~~~~~~~~~~~~~~~~~~~~~~~~~~~~~
Massachusetts
Birth Doula and Childbirth Educator
Serving Western New England,
from Northampton, MA
www.gentlebalancebirthnorthampton.com
413-588-7020
I provide skilled labor support, pregnancy care, childbirth education classes, infant soothing classes and postpartum care.
Glenda Datsko
Traditional midwife
Serving west/central Massachusetts
www.newcreationchildbirth.com
Comprehensive maternity care during pregnancy and postpartum. Providing midwifery services for homebirth, vbac and waterbirth.
Home Midwifery
Services
321 Lowell Street
Reading MA 01867
781.944.2618
Radiance
Traditional
Midwifery & Healing
Beth Anne Moonstone CPM, RM, RCYP
Amherst MA 01002
413.253.3100
Serving the Pioneer Valley, West Cental Massachusetts and Northern
Connecticut
Sawyer Hill Birth
Ellen Seebacher
Serving eastern and central Massachusetts
http://www.sawyerhillbirth.org/
978-838-2218
Sawyer Hill Birth offers childbirth education (Brio Birth and other classes) and labor support (doula services) to women and families in central and eastern Mass., particularly the Metro West area of Greater Boston and eastern Worcester County.
Soothing Waters Doula Service
Cynthia Kuffel – DONA-trained Birth Doula
Serving the Western mass and Pioneer Valley areas
www.soothingwatersdoula.com
413-885-4911
Free Interview w/2-4 Prenatal visits if hired. I will be on call 24/7 starting at 37 weeks and will meet you at home or place of birth when you want me arrive and stay with you until the baby is born. Please see my web site for more information.
~~~~~~~~~~~~~~~~~~~~~~~~~~~~~~~~~~~~
Michigan
-After Birth Service-Placenta Pills
and other remedies
-Melissa Williams & Cathy Knight
-Central Michigan and travel
throughout the state
-www.afterbirthservice.com
-afterbirthservice@yahoo.com
-616.821.5266 or 517.930.2196
-Services include: Placenta encapsulation, Placenta tincture, Placenta remedy, salves and artwork
Birth Doula Services
Amber Miller
Southeastern Michigan
http://www.gentlebirthwithamber.health.officelive.com
608-287-4814
birthgentlyA2@gmail.com
Supporting and empowering women and families in SE Michigan. My services include 2-3 prenatal visits, an on call period to assure attendance at your birth, continuous labor support, 2-3 postpartum visits.
Birth Song
Midwifery
Services
Yolanda Visser CPM CM
1514 Wealthy S.E. Suite 238B
Grand Rapids MI 49506
616.458.8144
Informed Birth
Choices –
Natural Childbirth Education & Preparation Classes
Laura Salik, CBE
Grand Haven MI 49417
616-566-5973
www.informedbirthchoices.com
mlsalik [at] charter.net
Serving West Michigan areas
~~~~~~~~~~~~~~~~~~~~~~~~~~~~~~~~~~~~
Minnesota
Family Tree
Midwifery
Vanessa Stephens Coldwater
3204 Elliot Ave
Minneapolis MN 55407
612.747.9096
Serving the Minneapolis, St Paul and surrounding areas
vanessa [at] familytreemidwifery.com
Naturopathic
Medicine
& Midwifery
Monica Liddle ND, CPM, LM
31 W. Superior St Ste 502
Duluth MN 55802
218.428.0338
~~~~~~~~~~~~~~~~~~~~~~~~~~~~~~~~~~~~
Mississippi
Birthing Options
Traditional Midwifery Care
Renata Hillman, CPM
601-766-0872
www.birthingoptions.com
Serving the Columbia, Gulfport, Lumberton, Hattiesburg, Collins,
Vancleave, Waynesboro, Bassfield, Baxterville, Beaumont, Benndale,
Biloxi, Buckhatuna, Ellisville, Hot Coffee, Hurley, Leakesville,
McLain, Mize, Moss Point, Mount Olive, Ocean Springs, Pascagoula,
Petal, Purvis, Richton, Sandhill, State Line, Taylorsville, Van Cleave,
Agricola Mississippi and Grand Bay, Guld Shores, Elberta, Mobile,
Millry, Orange Beach, Satsuma, Semmes, Spanish Fort, Wilmer, Chunchula,
Daphne, Chickasaw, Citronelle, Coden, Fairhope, and Eight Mile Alabama
areas
Whoz Your Doula Birth Services
Toni Hill
serving Northeast Mississippi including but, not limited to- Tupelo, Oxford, Starkville, Amory, Columbus, West Point, New Albany, Shannon, Corinth, Verona, Booneville
www.whozyourdoula.com
662-255-8283
whozyourdoula@yahoo.com
Antepartum, labor, postpartum doula services, childbirth preparation classes and lactation support
~~~~~~~~~~~~~~~~~~~~~~~~~~~~~~~~~~~~
Missouri
Crowned With Good Midwifery Care
Emily Yoder, CPM
Serving Southwest Missouri, Southeast Kansas and Northeast Oklahoma
Phone 417-321-9035 or 417-944-2455
e-mail cwgmidwifery@gmail.com
25552 S 2225 Rd. Milo, MO. 64767
I am a Certified Professional Midwife and along with my assistant, provide, prenatal, labor/delivery, and postpartum care to clients within about a 100 mile radius of my home.
Gentle Beginnings Midwifery
Judith Schmidt CPM, Rn
Southwest Missouri, southeast Kansas, Northeast Oklahoma
www.homebirthbaby.net or 417.483.8762
We are a home birth service with 17+ years of experience.
Terri Hultman CNM
417.483.2136
Serving the Webb City, Blue Springs, Belton, Appleton City, Adrina,
Kansas City, Knob Noster, Lees Summit, Liberty, Independence, Raymore,
Grandview, and El Dorado Springs Missouri areas as well as Overland
Park Kansas
~~~~~~~~~~~~~~~~~~~~~~~~~~~~~~~~~~~~
Montana
Great Falls
Homebirth
Service
Traci Palgi, LM, CPM
516 29th Ave NE #4
Great Falls MT 59404
406.453.4965
Serving the Great Falls,  Helena, Fort Benton, Belt and
Augusta areas
Kelly Kuntz Photography
Serving Bozeman and the Gallatin Valley
(Montana)
www.kellykuntz.com
406-570-7067
Telling the story of your birth in a beautiful and photojournalistic style.
~~~~~~~~~~~~~~~~~~~~~~~~~~~~~~~~~~~~
Nebraska
Angelic Creations
Photography
LIncoln NE 68516
402.483.7484
MommaDoula Birth Services
Carrie Laughlin
Serving Omaha, NE and surrounding areas
www.mommadoula.com
402-598-8870
mommadoula@gmail.com
I'm a certified birth Doula through DONA. I have experience with medicated, non-medicated, VBAC, cesarean, and induced births. Please contact me to set up a 'get to know me' interview. This interview is free and there is not an obligation to hire.
~~~~~~~~~~~~~~~~~~~~~~~~~~~~~~~~~~~~
Nevada
A Special Delivery
5535 Megan Faye St
North Las Vegas NV 89031
702.243.0944
Serving the Las Vegas, Henderson, Boulder City, Alamo, and Pahrump
areas
as well as Kingman Arizona, Needles California, and St George Utah
~~~~~~~~~~~~~~~~~~~~~~~~~~~~~~~~~~~~
New Hampshire
The Birth Cottage
4 Prospect St
Milford NH 03055
603.673.6010
twogreatmidwives [at] yahoo.com
~~~~~~~~~~~~~~~~~~~~~~~~~~~~~~~~~~~~
New Jersey
In Due Season
211 Lower Unionville Road
Sussex NJ 07461
973.875.6216
Serving Northern New Jersey and surrounding areas
~~~~~~~~~~~~~~~~~~~~~~~~~~~~~~~~~~~~
New Mexico
Albuquerque
Homebirth
1009 Santa Ana SE
Albuquerque NM 87123
505.294.4359
Providing Hypnosis for Birth, Birth & Postpartum Doula servies,
Midwifery, and Childbirth Education
Birthing Beginnings
Danielle Simmons, Birth Doula
Serving Santa Fe, NM
www.BirthingBeginnings.com
505-795-3566
I offer full birth doula services including prenatal and postpartum visits. I also offer Birth Art Groups and Individual Birth Art Sessions for expecting parents. Please check out my website for more details!
Masterpiece Medical Massage
Karla Linden, NMT, LMT
Albuquerque, NM – over 25 years experience, pregnancy massage speciality
www.KarlaLinden.com
505-340-9454
Also Arvigo Maya Abdominal Massage practitioner
Natural Nesters
Pregnancy, Childbirth, Postpartum, & Breastfeeding
Education, Support, & Integral Therapy Services
Katrina Fuller, CBE, CLE, CLD
By Appointment Only
Hobbs, New Mexico
(575) 392-4874
naturalnesters [at] hotmail.com
Facebook, MySpace, & Twitter
Referrals Welcome
Gift Certificates Available
Perfect for mother blessings and baby shower gifts!
Ready to Birth Educational Services
Sarah Cowart, CBRE
Brio Birth Classes
www.readytobirth.com
Serving the Albuquerque, NM area with childbirth classes that offer the perfect mix of time-honored traditions and comprehensive curriculum that includes cutting edge research to empower 21st century moms to give birth with confidence.
~~~~~~~~~~~~~~~~~~~~~~~~~~~~~~~~~~~~
New York
Alice Shammah Photography
Alice Shammah
Serving the NY NJ CT TriState area
www.aliceshammah.com
888.424.4908
Professional Photographer Specializing in Maternity and Newborn Photography
Babymoon Doulas
New York City NY 10027
646.489.8837
britt [at] babymoondoulas.com
Chiara Luna Labor Support
Lindsey Bednar CD(DONA)
NYC, Hoboken & Jersey City, NJ
http://www.clbirth.com
917.747.4124
The birth of a child is one of the most profound and life-changing events a woman will ever experience. As a doula I have the great honor of seeing women and men become parents. There is nothing more amazing than that.
Hana Askren
Low cost doula in training
Serving Manhattan and the 5 boroughs
www.hanaleora.blogspot.com
323.482.6855
hana.leora [at] gmail.com
NYC Doula Service
Lauren Kunis CD(DONA)
NYC
www.nycdoulaservice.com
917-617-7905
Labor Doula and Childbirth Education at an affordable rate in NYC. Bringing New Souls Into The World Peacefully.
Rebecca Tuffey
The Alexander Technique
New York NY 10011
347.665.8858
rebecca [at] rebeccatuffey.com
Southern Tier Hypnobirthing
Bethany McCarey-Hammond, HBCE
Corning, NY and surrounding areas
www.southerntierhypnobirthing.webs.com
Hypnobirthing – The Mongan Method
Learn relaxation techniques so tht you can give your baby a welcome that is calm , gentle and safe.
Tintawi Doula and Homebirth Services
Tintawi KaIgziabiher, CD
Serving NY,NJ Metro Area
http://www.tintawi.com, http://www.thehomebirthproject.com
201-503-0122
Providing labor and post-partum doula services, childbirth education, homebirth workshops and midwifery services with Sakina O'uhuru, CM
WNY Childbirth – Doula Services and Childbirth Education
Lori Gehl
Serving the Buffalo Area
www.wnychildbirth.com
(716) 393-5235
Offering Brio Birth Natural Childbirth Classes. Group or private classes are available. Doula services for hospital or home.
~~~~~~~~~~~~~~~~~~~~~~~~~~~~~~~~~~~~
North Carolina
Birth At Its Best Doula Services
Juliet-Labor Doula
Serving all of greater Gastonia and greater Charlotte areas, teen support, breastfeeding support, and birth plan writing assistance available.
www.birthatitsbest.com
Penny Noell
Photography
Durham NC 27707
919.741.9456
Jo Garrett
Chapel Hill, NC
www.jo4joyfulbirth.com
919.265.4474
Brio Birth Educator
DONA International Certified Birth Doula
My Gentle Birthing
Teva Dellabalma, HBCE
Fayetteville, NC and surrounding areas
www.mygentlebirthing.com
(910) 584-6690
I provide private and group HypnoBirthing classes to couples in the Fayetteville, NC and surrounding areas.
~~~~~~~~~~~~~~~~~~~~~~~~~~~~~~~~~~~~
North Dakota
Beth Bergeron CPM,
LM
One 2nd St S
Fargo ND 58103
218.256.0412
~~~~~~~~~~~~~~~~~~~~~~~~~~~~~~~~~~~~
Ohio
Birth Your Way
Giselle Blanchong
Toldeo OH 43604
419.932.5740
Heartland Midwifery
Sandra Hess, CPM
serving Central/NE Central Ohio.
heartlandmw@yahoo.com
330-231-5945
Partnering with parents for safety and sanctity in childbearing. The natural choice. private, affordable, experienced, compassionate care. Serving families since 1983.
~~~~~~~~~~~~~~~~~~~~~~~~~~~~~~~~~~~~
Oklahoma
Andrea Felsinger
Tulsa, OK with a 30 mile radius
www.OKdoula.com
918-313-4335
I am a childbirth doula whose goal is to provide any woman who wishes it support, information, and courage to make the right choices for them at their upcoming birth.
Heaven Sent Births
4212 NW 23 Suite A
Oklahoma City OK 73107
405.787.7730
Family Centered
Homebirth
PO Box 9833
Tulsa OK 74157
918.224.1605
~~~~~~~~~~~~~~~~~~~~~~~~~~~~~~~~~~~~
Oregon
A Woman's Point of
View
Midwifery
3526 NE 57th Ave
Portland OR 97213
503.963.9368
info [at] mydwyf.com
Bountiful, Blissful & Beautiful
The Conscious Cooperative Village for Mothers
Shannon Moorman Burns
619 Hancock
Newberg, OR 97132
808.557.8114
Labor Doula, Lactation Education, Prenatal Yoga, "Your Best Birth" Birth Plan Work Shop, New Mom's Support Group, Mentoring, Teen Mom's Support
Shannon Evans
Portland, Oregon, U.S.A
shanonagens [at] verizon.net
503-680-0508
DONA International Trained Birth Doula
Birth Doula / Reiki energy healer / Massage Therapist
I'm a 31 year old female, I have two children of my own.  As a
birth Doula, I combine Reiki energy healing and Massage Therapy to help
ensure a safe and satisfying birth experience. I will help you trust
your body and help you trust your own judgment. I will help grant your
wishes and inform you of your rights during childbirth. I enhance the
birth experience through information, empathy, and physical
assistance,  from early labor on. I offer services in
the Gresham, Portland, Clackamas, Vancouver areas &
more…Services
offered to all income levels.
~~~~~~~~~~~~~~~~~~~~~~~~~~~~~~~~~~~~
Pennsylvania
Dove Charity Home Birth
Valerie Monterrey CPM
208 Longacre Ave
Erie, PA 16509
610-413-3099
www.ErieHomeBirth.com
Serving West to Ashtabula, OH
South to Pittsburgh
North to Buffolow, NY
East to Jamestown, NY and Waren, PA
Mary Beth Miller Photography
by Mary Beth Miller
Serving Pittsburgh PA and surrounding areas
www.mbmillerphotography.com
merrimum77 [at] yahoo.com
Specializing in Maternity and newborns.
Also available to photograph and document your child's birth.
Please contact me for details on birth sessions!
WomanWise
Karen Webster CPM
Chrsity Santoro CPM, LM
1809 S 16th Street
Philadelphia PA 19145
215.HM.BIRTH
midwives [at] womanwise.info
Well Born Baby
Serving Philadelphia and surrounding areas including Chester, Delaware, and Montgomery Counties.
www.wellbornbaby.com
610-761-9830
info [at] wellbornbaby.com
Supporting your journey from belly to birth and beyond.
Well Born Baby is a team of certified doulas, childbirth educators and lactation consultants empowering women to become confident mothers. We prepare you for the big day, from writing a birth plan to informing you of your choices surrounding your baby's birth. After you welcome your little one, we are on hand to help as you navigate the world of motherhood. From nursing to sleep issues to finding a bra that fits, we've got your back.
~~~~~~~~~~~~~~~~~~~~~~~~~~~~~~~~~~~~
Rhode Island
~~~~~~~~~~~~~~~~~~~~~~~~~~~~~~~~~~~~
South Carolina
~~~~~~~~~~~~~~~~~~~~~~~~~~~~~~~~~~~~
South Dakota
~~~~~~~~~~~~~~~~~~~~~~~~~~~~~~~~~~~~
Tennessee
Birth and Beyond Doula Services
Lori Wade
Serving Knox, Blount and surrounding counties in East Tennessee
www.knoxville-doula.com
865-984-3693 or 865-719-5485
Certified birth doula and childbirth educator. Working on postpartum certification.
Born to Birth Childbirth Services
Lindsay Born CBE, CLD
Nashville, TN
www.borntobirth.com
lindsay [at] borntobirth.com
Offering
Wonderfully Made Childbirth Classes, Fit Mama Fit Baby Classes, Weekend
of Relaxation, Work of Heart Childbirth Classes and labor doula
services for moms living in the greater Nashville area.
Placenta Encapsulation
Daphne McIntosh
daphnemcintosh [at] yahoo.com
http://womboflife.webs.com
615-948-6294
East Tennessee Placenta Encapsulation
Holly Stewart
Serving East Tennessee! (Knoxville & surrounding areas)
www.placentabenefits.info/hollystewart
865-318-2920 OR holly@placentabenefits.info
Avoid the baby blues and help recover from birth naturally, using placenta capsules! Placenta is a natural way for mothers to help gradually return their hormone levels back to normal, supply extra iron, and help prevent baby blues!
Infinity Birthing
Center
We are Infinity Birthing Center in Cookeville Tennessee. We service
women and familes throughout the Middle Tennessee and Southern Kentucky
areas. We offer natural childbirth as well as waterbirths in one of
only four free-standing birthing centers in Tennessee. Each birth is
assisted by one of our four Certified Nurse Midwives. For more
information or contact information please visit our website
www.infinitybirthingcenter.com
Knoxville Doula
Kimberly Sebeck
Knoxville and East TN
www.knoxvilledoula.com
(865) 705-7734
Offering labor and postpartum doula services as well as childbirth education.
~~~~~~~~~~~~~~~~~~~~~~~~~~~~~~~~~~~~
Texas
All About Babies
Donellyn
Dominguez
2104
Stratford Park Dr.
Fort Worth TX 76103
817.994.0470
Serving
the Kemp, Weatherford, Midlothian, Waxacachie, Alvarado, Argyle,
Arlington, Azie, Benbrook, Blue Mound, Brideport, Cedar Hill, Cleburne,
Coppell, Cockrell Hill, Dallas, Decatur, Benton, Euless, Forney,
Granbury, Glen Rose, Haltom City, Highland Park, Hurst, Kaufman,
Killeen, Lake Worth, Maypearl, Mineral Wells, North Richland Hills,
Saginaw, Scurry, Waco, Palestine, Grand Prairie, Everman, Duncanville,
Crowley, Burleson, and Bedford areas
Birth with Faith
Faith Beltz LM, CPM
Austin TX 78745
512.698.4132
Serving the Austion, Dripping Springs, Blanco, Boeme, Canyon Lake,
Driftwood, Burnet, Fredericksburg, Marble Falls, Perrville, and San
Antonio areas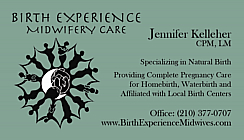 Jennifer
Kelleher, LM, CPM
Midwife serving San Antonio and Surrounding Hill Country.
Offices in San Antonio and in Boerne TX.
Specializing in Complete Pregnancy Care for Homebirth and Waterbirth.
210-377-0707
www.BirthExperienceMidwives.com
Loving Beginning
Ginni Dingeldein
Serving south central Texas including New Braunfels, Seguin, Cibolo, Schertz, San Antonio, Converse, San Marcos, Austin, Canyon Lake and more.
www.lovingbeginning.com
830-542-9334
Offering birth doula services, post partum doula services, placenta encapsulation, and breastfeeding assistance.
Mama Matters
Kali Shanti Park, Certified Labor Doula & Birth Photographer
Serving the East Texas area (Tyler TX and surrounding cities)
www.mamamatters.com
214-674-7608
MotherBloom
Midwifery Service, Personalized Home Birth Care
Christy Tashjian, RN, CPM, LM
512.924.2229
christy [at] motherbloommidwifery.com
motherbloom.blogspot.com
motherbloommidwifery.com
Serving Travis, Hays, Williamson, Bastrop, Blanco, and Caldwell Counties
My Doula Duo
Sabrina Elliott
Serving Abilene,TX & the Big Country
www.mydouladuo.com
(325)261-1146
Comforting and Educating Women throughout their birthing experience.
Natalie Lingo, Pre
& Postpartum Doula
If
you are in need of a Doula, I would be glad to provide my services.
Trained as a lay midwife and having four children myself, as well as
providing services as a Pre and Postpartum Doula, as well a
breastfeeding coach since 1996, I have the experience and love for
childbirth that will make your baby's birth a rewarding and joyful
experience for all involved. I specialize in natural pain relief as
well as mental and physical preparation to avoid the need for
medication and intervention such as an episiotomy.

409.499.0538
natalielingo [at] att.net
Serving the Golden Triangle area, including Beaumont, Pt. Arthur,
Orange, and surrounding areas.
The Nurtured Center
Tina Castellanos, Birth Doula, Childbirth Educator, Breastfeeding Educator
I serve San Antonio and the surrounding area.
www.TheNurturedCenter.com
210-888-2149 or 361-548-4143
Providing Birth Doula support, childbirth education and breastfeeding consultations to families in Central Texas.
Peace and Birth
Julie Garcia CBRE
Austin, TX
www.peaceandbirth.webs.com
www.facebook.com/apeacefulbirth
(512) 785-1895
I am a certified Brio Birth teacher, a modern and comprehensive natural childbirth class. I offer doula services to my students.
Salli Gonzalez, LM,
CPM  
We offer full prenatal care, including lab work, labor and birth and
postpartum care using hands on care typical of midwifery care.
Specializing in water birth, home birth and birth center options. Your
birth, your baby and your family are special to us. When you feel
secure and your needs are met through the support of your care givers,
your baby is born into a safe and comfortable environment. We
understand your desire to have a birth experience within the sacred
unit of your loving family. We've been there.  Classes in
Childbirth Education, Cloth Diapering, and Baby Wearing.
830.556.3404
salli [at] empowermentbirthing.com
www.empowermentbirthing.com
Services provided in the cities of San Antonio, Seguin, San Marcos, New
Braunfels, Schertz, Cibolo, Universal City; Guadalupe, Comal, Hays, and
Wilson counties and surrounding areas.
San Antonio Birth Center
"…where families bloom"
www.BirthCenterSA.com
210-593-0462
Alisa Voss, LM, CPM and staff offering family centered prenatal and birth care at our free-standing birth center or in your home. Birth how your body needs to birth – in the water, on the birth stool, standing, squatting, whatever works for you and your baby – we are here to support you.
Sarah Jones
Certified Professional Midwife
I
am a Certified Professional Midwife working in Dallas/Fort Worth as a
home birth midwife as well as at a birthing Center in Hurst texas,
called Gentle Beginnings Birth Center.
1817 Harwood Ct. Hurst Texas 76054
www.sarahjonesmidwife.com
sarah [at] sarahjonesmidwife.com
817.219.9293
Sarah Small
Labor and Postpartum Doula
www.TheMothersAssistant.com
sarah [at] themothersassistant.com
214.766.1569
Serving Dallas and its South East suburbs; Mesquite, Sunnyvale, Forney,
Terrell, Kaufman, Rockwall, and Canton.
I have been serving women during labor and the days postpartum since
2004.  Certified through DONA in 2005, and a mother of four
sons, I have experience and training.  Give me a call to set
up an appointment to meet!
Serenity Birth Services
Trisha Blizzard
Serving Fort Worth and Dallas Areas
http://serenitybirthservices.com
817-226-5475
Childbirth Classes, Birth Doula services, Breastfeeding support, Happiest Baby on the Block, Breastfeeding, Early Pregnancy and VBAC classes
Sisters Midwifery
Illysa Foster, M.Ed., CPM, LM
Serving Austin and Central Texas
www.sistersmidwifery.com
(512) 809-3132
Holistic maternity care and classes: pregnancy, homebirth, postpartum and newborn care
Teresa Berg Photography
Teresa Berg
Dallas / Fort Worth
www.teresaberg.com
214.557.2415
Extraordinary maternity and newborn portraits for the most beautiful time of your life!
Whites Photography
Paul
White has more than 40 years of experience in doing beautiful and
sensitive images that celebrate pregnancy and childbirth.
 From
pregnancy portraits to home or hospital births you can depend on him to
create images that will forever immortalize the most joyful moments of
your life.  He works primarily in Abilene, Texas and
surrounding
areas but will travel anywhere.
325.677.5446
pw [at] whitesphotography.com
www.whitesphotography.com
~~~~~~~~~~~~~~~~~~~~~~~~~~~~~~~~~~~~
Utah
HypnoBirthing Utah
Lauralyn Curtis
Serving Utah County
http://www.hypnobirthingutah.com
(801) 477-0788
We offer HypnoBirthing Childbirth education classes, Hypno-doula services, prenatal yoga and massage, and placenta encapsulation.
Raeann Peck
Midwife
Salt Lake City UT 84118
801.966.3156
~~~~~~~~~~~~~~~~~~~~~~~~~~~~~~~~~~~~
Vermont
Bright Blessings
511 Sunset Ln W
Hinesburg VT 05461
802.598.2421
~~~~~~~~~~~~~~~~~~~~~~~~~~~~~~~~~~~~
Virginia

Belly Blessings Birth Services
Leila Ballard, Doula
Richmond, Va and surrounding area
www.belly-blessings.com
804-276-1043
Former nurse offering Birth Doula and postpartum doula services.
Birth Doula
Jennifer Monaghan, CD(CBI)
Northern Virginia
www.NOVADoulas.com
703-957-0382
NOVA Doulas, LLC mission is to equip and empower women to achieve the pregnancy, birth experience and postpartum recovery of each client's dream, through endorsement of an individualized care plan approach.
Jennifer Derugen
LM, CPM,
CHT
Norfolk VA 23517
757.622.2791
Providing Hypnosis for Birth, Midwifery, Waterbirth, and Holistic care
Home Birth
Midwifery Service
Kim Mosny, CPM, LM
13541 E. Boundary Rd, Ste 101
Midlothian, VA 23112
office: 804.651.0608
cell:   901.292.4876
email: kmosny@richmondmidwife.com
web: www.richmondmidwife.com
Comprehensive midwifery, home and water birth services in the
metro-Richmond VA areas and surrounding communities. "We Bring the
Birth Center to YOU!!"
Empowered Birth & Parenting
Sally Faulkner
Serving Franklin County,Virginia
www.empowered-birth.com
5403652337
Providing childbirth preparation classes classes with a Christian emphasis, doula services and breastfeeding support for Franklin County, Virginia
Tendercare Doulas
and Birth Services
Virginia Fleischman

Offering prenatal and postnatal services in the Richmond Virginia area.

I have been trained by DONA/CBI as a birth doula, a CBE by CBI and am a
certified postpartum doula through FCC. I also have been a RN since
1990 and currently do pediatric home health. I am also certified in CPR
for children, adults, and infants.I am here to make the childbirth and
postpartum experience your own.
804.643.7607  (home)
804.432.6244 (cell)
nursego20 [at] hotmail.com
www.freewebs.com/tenderheartsandhandsdoulas/index.htm
The Bradley Method (R) of Natural Childbirth
Erin Caines, AAHCC
Serving Northern Virginia
www.bradleybirth.com/?C560
12 week classes in the Bradley Method (R) of Natural Childbirth prepare parents for unmedicated, informed birth as well as for breastfeeding and baby care. Classes are kept small for individual attention (4-5 couples per series).
~~~~~~~~~~~~~~~~~~~~~~~~~~~~~~~~~~~~
Washington
A Gentler Birth, Doula Service
Bethany Tilzey CD(DONA)
Serving Pierce, Kitsap, Mason and surrounding Counties in Washington.
www.AGentlerBirth.com
(253)884-8088
Around the Circle
Midwifery LLC
200 Lilly Rd NE Ste B-1
Olympia WA 98506
360.459.7223
Babies in Bloom Birth Services & More
Angelina "Angie" Leeks, Doula
Kent, Seattle metro area
www.babiesinbloom.weebly.com
253.981.4714
Joyfully providing doula services to the Kent community and surrounding areas. Free and low cost services available to those in need.
Because Your Birth Matters Doula Services
Kristyn Shafer, trained Birth Doula
Serving Olympia, and surrounding areas. Thurston, Pierce, Mason, Grays Harbor, and Lewis Counties
Helping women understand their options for pregnancy and birth. I am happy to attend births in hospital, birth centers, or home.
www.becausebirthmatters.com
(360)888-7174
Birth In Bloom
Kerry Reynolds, DONA Trained Birth Doula
Serving Northern Virginia, Metropolitan DC and Suburban Maryland
Providing Doula, Childbirth Education, Breastfeeding Support and
Newborn Care services
703.855.1938
birthinbloom [at] gmail.com
www.birthinbloom.com
Bradley Method of
Natural Childbirth
www.bradleybirth.com
1.800.422.4784
Doulaville – Seattle Birth Services
Serving the Seattle-Tacoma Metro Area
www.doulaville.com
(253)326-9952
Seattle's one-stop-shop for everything pregnancy, birth and postpartum related. Free & low cost services available to those in need.
Olympia Postpartum Care
Carolyn McKinnon, Postpartum Doula
Serving Thurston, Mason, Lewis and south Pierce Counties (Washington State)
www.olydoula.com
360-970-3677
Providing compassionate postpartum care to families with new babies. Services include practical, physical & emotional support. Breastfeeding support, newborn and mother care, soothing techniques,support for postpartum mood disorders, organizing & errands.
Life Song Perinatal Wellness Center
Mary Burgess, MA, CD(DONA) – Birthing From Within mentor, childbirth educator, doula, breastfeeding educator, mother
Serving Bellingham and surrounding counties.
www.lifesongperinatal.com
360-510-0188
email: maryburgess555@gmail.com
Birthing From Within childbirth preparation classes, including 6-week series, awakening the mother postpartum series, refresher and vbac weekend workshops. Postpartum birth story workshops, weekly free baby weigh and breastfeeding cafe mother's gatherings.
~~~~~~~~~~~~~~~~~~~~~~~~~~~~~~~~~~~~
West Virginia
Expecting Changes
Morgantown WV 26508
304.599.6868
Providing Birth and Postpartum Doula Services
Helping Hands Doula Care
Lenore Harris
Serving Morgantown,WV and surrounding areas.
304.692.3501
I am a Dona Certified Birth Doula. I have attended 2 home births and numerous hospital births. Please contact me for a free consult.
Joy In Birth Midwifery
Jennifer Stewart, DEM
Serving: WV, OH, KY
www.joyinbirthmidwifery.blogspot.com
www.facebook.com/joyinbirth
joyinbirth06@gmail.com
304-552-6909
I am a homebirth midwife passionate about birth, babies, and beyond. From pregnancy to breastfeeding, Joy In Birth Midwifery seeks to help each and every woman have a unique and beautiful experience. This is birth from God's point of view!
WV Homebirth Midwife
Sue Hovemeyer
Serving Southwestern WV, Eastern KY, and Southern OH
www.WVhomebirth.com
Well Rounded Birth Prep
Sarah DeGroff, Independent Childbirth Educator
Serving Kanawha, Putnam, Cabell and surrounding counties in WV
www.facebook.com/wellroundedbirthprep
www.twitter.com/wellroundedprep
Offering fun, interactive, evidence-based childbirth classes incorporating the 6 Healthy Birth Practices promoted by the World Health Organization. Also offering prenatal classes, breastfeeding support, newborn classes, and more.
~~~~~~~~~~~~~~~~~~~~~~~~~~~~~~~~~~~~
Wisconsin
Better Birthing Services
Rachel Pugh
Sheboygan WI
www.childbirth.webs.com
920-783-6027
I am a Certified, Natural Childbirth Educator, La Leche League Leader and Birth Doula. I offer Natural Childbirth classes and provide Birth Doula Services.
Birthing
Empowerment and Doula Services, LLC
"Let Your Birth Experience Be Your Own…"
Sabrina M. Foulks
612.237.2746
Serving areas of: Germantown, Menomonee Falls, West Bend, Jackson,
Sussex, Racine, Hubertus, Hartford, Mequon, Milwaukee, Slinger,
Waukesha and other surrounding areas
Providing birth doula/postpartum doula, placenta encapsulation, belly
casting, blessingway, pump rental and pump purchase, private childbirth
class and private breastfeeding classes, 6 month extended breastfeeding
support and more
www.birthingempowermentanddoulaservices.net
Blissful Beginnings
Marnie Blackman
Serving Western Wisconsin and the Twin Citites, MN
www.blissful-beginnings.com
715-977-0249
I am a Brio childbirth educator, a massage practitioner, and a DONA certified antepartum/birth/postpartum doula.
Blossom Birthing
Sara Carlson
Serving West Central Wisconsin including but not limited to: Eau Claire, Osseo, Menomonie, Chippewa Falls, New Richmond, Hudson, Bloomer, Rice Lake, Turtle Lake, Mondovi, Strum, Eleva, Ridgeland, New Auburn. If you live near these areas, and don't see your city listed feel free to ask.
blossombirthing.blogspot.com
(715)962-3342
I provide pregnancy, birth/labor, and postpartum doula support. I also offer breastfeeding support, placenta encapsulation, and more.
Feel free to call with any questions, Monday-Friday 9am-9pm. Ask for Sara, if I am not there just leave a message and I will return your call as soon as I get it.
~~~~~~~~~~~~~~~~~~~~~~~~~~~~~~~~~~~~
Wyoming
Birth Alternatives
212 Tyler #1
Cheyenne WY 82007
307.638.8275
Serving the Cheyenne and Laramie areas
~~~~~~~~~~~~~~~~~~~~~~~~~~~~~~~~~~~~
Washington
DC
~~~~~~~~~~~~~~~~~~~~~~~~~~~~~~~~~~~~

Canada
'Believing in Birth' Doula Services
Eileen Roberts, CBD
Kindersley and surrounding area, Saskatchewan, Canada.
www.believinginbirthdoula.com
306-962-4495 / 306-460-6240
I offer birth doula services, private prenatal classes, private birth plan consultations, and TENS rentals.
Cultivate Your Health – Natural Pregnancy & Childbirth Services
Crystal Di Domizio, RHN, HCHI
Serving Vancouver, BC, Canada
Website: http://cultivateyourhealth.com
Blog: http://prenatalcoach.com
Offering Hypnobabies Childbirth Education classes for an easier and more comfortable birth!
Doula Annie Birth Doula Services
Serving the Metropolitan Toronto Area
www.doulaannie.com
416-312-9558
Experienced doula services, prenatal education and breastfeeding support in the Greater Toronto Area. My unique birth packages fit every birth experience with an integrative approach to care.
From Womb to Cradle Doula Services, Inc.
Michelle Maisonville, Birth Doula
Medicine Hat, Alberta and surrounding area.
http://www.wombtocradle.ca
From Womb to Cradle is staffed by a team of trained birth doulas, who believe in your ability to birth without unnecessary interventions. Birth is honoured as a life-changing event. Your doula is there to protect the birthing space and provide continuous support to you and your birth partner.
Inner Strength Doula Services
Nicole Eramian CLD (CAPPA Canada)
Saskatoon, Saskatchewan and surrounding area
http://www.innerstrengthdoulaservices.sasktelwebsite.net
(306) 934-0962
Labour doula services and VBAC support.
The Comfort Zone Doula Services
m.mathews [at] sympatico.ca
Canada
905-473-5939
www.newmarketdoula.ca
Providing kind, gentle support to Moms and their partners for prenatal, labour, birth and the postpartum . Doula certified with DONA.
Hypnosis For Childbirth.
http://hypnosis-for-childbirth.webs.com
Learn Self Hypnosis for an easier, more comfortable natural birth. Learn where you are! All classes are by SKYPE Internet video.
Sheila Scott RN C.Ht.
416-494-8206
Little Bums, Fingers and Toes Photography
Lorena Smalley
Edmonton, Alberta, Canada
www.littlebumsfingersandtoes.com
1780 905-9440
"Specializing in Edmonton maternity photography, newborn photo sessions and baby portraits in Edmonton Alberta & area. Capture those precious moments with artistic studio and outdoor photography"
Moncton Doula Care
Lisa Earthama Marshall, Wise Woman Doula
Wise woman doula services include but are not limited to complete
prenatal/birth/postnatal support, whole health consulting, herbal
support, natural baby care, nature inspired parenting, blessing
way~heart centered celebrations, birth jewelry, birth stories,
conscious conception, support for single Mothers….and more.
Areas served: Moncton, New Brunswick, Canada
506.860.7568
lisa [at] pathtonature.com
Skype- Earthama
 
Motherhood Whispers
Nicole Ryans
Montreal, Quebec
http://motherhoodwhispers.weebly.com
(438) 869-3544
Labour doula, Childbirth classes, Newborn Care classes, Breastfeeding support.
Rivka Cymbalist
Providing holistic doula services, doula training and unassisted birth
support in Montreal, Quebec
514.692.0086
montrealdoula [at] yahoo.com
Trusted Instincts Doula Services
Amy Casson
Swift Current SK
www.trustedinstincts.ca
1-306-741-6255
I am a CAPPA trained Labour Doula and I also offer Postpartum Doula services as well.
Whispering Heart Doula Services
A gentle, calm, compassionate, dependable childbirth educator & DONA certified doula providing you with information, support, encouragement and respect so you'll find inner strength to birth your baby and transition to motherhood.
Providing birth preparation, breastfeeding and newborn care classes to expectant and new parents in Thornhill, Richmond Hill, Aurora, Newmarket, Markham, King City, Bradford, Maple, Vaughan, Woodbridge, Etobicoke and Toronto, Ontario Canada.
Email: jmraines51@yahoo.com
Phone: 905-773-2789
Website: www.torontodoula.ca
~~~~~~~~~~~~~~~~~~~~~~~~~~~~~~~~~~~~

United
Kingdom
Inspiring Births HypnoBirthing
Leila Gardiner
Surrey, UK
www.inspiringbirths.com
07775 425301
For many expectant mothers the concept of a comfortable or even calm joyful birthing remains just outside of our reach. Millions of women have experienced a painful birth and the idea that birth must be painful is widely accepted as the norm. Many obstetricians witnessing birthing mothers who have comfortable or even painless births are dismissed as lucky, delusional or having a really high pain threshold. HypnoBirthing can give you these results, so why not contact me to find out how it can benefit your baby's birth.
The Doula Effect
Kath Harbisher
Serving parents across South Wales, UK
www.TheDoulaEffect.com
Tel: 07947 597 954
I offer antenatal, birth and postnatal doula services which you can mix and match to meet your specific needs. My role is to support you in whatever birth you feel is right for you and your baby. My particular skill is enabling you to negotiate with NHS professionals to achieve the birth you envisage.
~~~~~~~~~~~~~~~~~~~~~~~~~~~~~~~~~~~~

Australia
Amazon Fertility Program
Antonia Ruhl
The Amazon Fertility Program assists women worldwide in preparing for natural childbirth. Whether you are battling infertility or you understand the benefits of bringing your body into a peak state prior to conceiving this program is for you.
Designed by a true shaman trained as a tribal medicine woman by the Kayapo Amazon Indians.
www.NaturalStressTherapy.com
Tel: +61-3-9650-6520
Calmbirth®
Preparation Course
Julie Clarke
The
Calmbirth® course imparts the knowledge of birth preparation techniques
such as deep relaxation, visualisation, breathing, positive imagery,
attitudes/expectancy to achieve a rewarding, easier, more comfortable
stress-free birthing experience. For enquiries and available times and
bookings phone (02) 9544 6441 available weekends, weekdays, evenings.
 Visit: www.julieclarke.com.au see website for dates and
discount.
Special note: Julie's Calmbirth® course is very reasonably
priced. 
9 Withybrook Place Sylvania, Sydney, Australia. (Courses located at
Julie's home; just 20 mins south of the airport).
Mobile 0401265530
julie [at] julieclarke.com.au
Essential Birth
Consulting
Essential
Birth Consulting is a private/independent midwifery service providing
home birth and hospital birth services in Sydney, the Blue Mountains,
Illawarra, Southern Highlands and the Central Coast.
Home birth and
hospital birth services place you at the centre of your care and
support you to give birth on your own terms.  VBAC,
waterbirth,
twins and breech births are supported.  Services also include
childbirth education, birth trauma debriefing, preconception care,
second opinions and birth preparation.
For enquiries, please phone Melissa on 0400 418 448 or email melissa
[at] essentialbirthconsulting.com.au.
Olive Tree Acupuncture
Prudence Tsewang
Located in Concord, Inner West Sydney, NSW
http://www.olivetreeacupuncture.com.au
0414 856 969
Olive Tree Acupuncture specialises in acupuncture treatments for pregnancy and childbirth, fertility, pre-conception care and post-conception care.
Prudence Tsewang is a highly trained, experienced and registered acupuncturist and herbalist with a Bachelor degree in Traditional Chinese Medicine (UTS).
Sydney Pregnancy Centre
Serving the Inner West area of NSW, Australia. Located in Concord.
http://www.sydneypregnancycentre.com.au
Phone Number: 9706 7060
The Sydney Pregnancy Centre aims to work alongside women's primary care giver to create a natural and nurturing environment for women to feel supported during this time of womanhood. The Centre offers services by a Yoga expert, Acupuncturist, Naturopath, Massage Therapist and Doula in which all practitioners work together and complement each other's therapies to give holistic care to women and their birth support.
~~~~~~~~~~~~~~~~~~~~~~~~~~~~~~~~~~~~

International
The Brewer
Pregnancy Diet
http://www.drbrewerpregnancydiet.com/index.html
The
Brewer Diet can help to prevent or treat Pregnancy Induced
Hypertension, pathological edema of pregnancy, pre-eclampsia, HELLP,
premature labor, IUGR, and low birth weight.  There are weekly
checklists for the Basic Plan, and other charts for plans for
vegetarians or multiple pregnancies.  There is also
information
about the history of the Brewer Diet, and about the most common
misconceptions about this nutrition program for pregnancy.
The Twin to Twin Transfusion Syndrome Foundation
A nonprofit organization solely dedicated to providing immediate and lifesaving educational, emotional and financial support to families, medical professionals and other caregivers before, during and after a diagnosis of twin to twin transfusion syndrome.
www.tttsfoundation.org
800-815-9211
~~~~~~~~~~~~~~~~~~~~~~~~~~~~~~~~~~~~
Page Last Modified

by Catherine Beier, MS, CBE


[ad_2]

Source link