This blueberry pie recipe has a healthy new look! It's super easy to make too.
It makes a delicious pie with NO refined sugar! Naturally sweetened with honey and real blueberries. With this healthier, clean eating dessert, you can have your pie, and eat it too!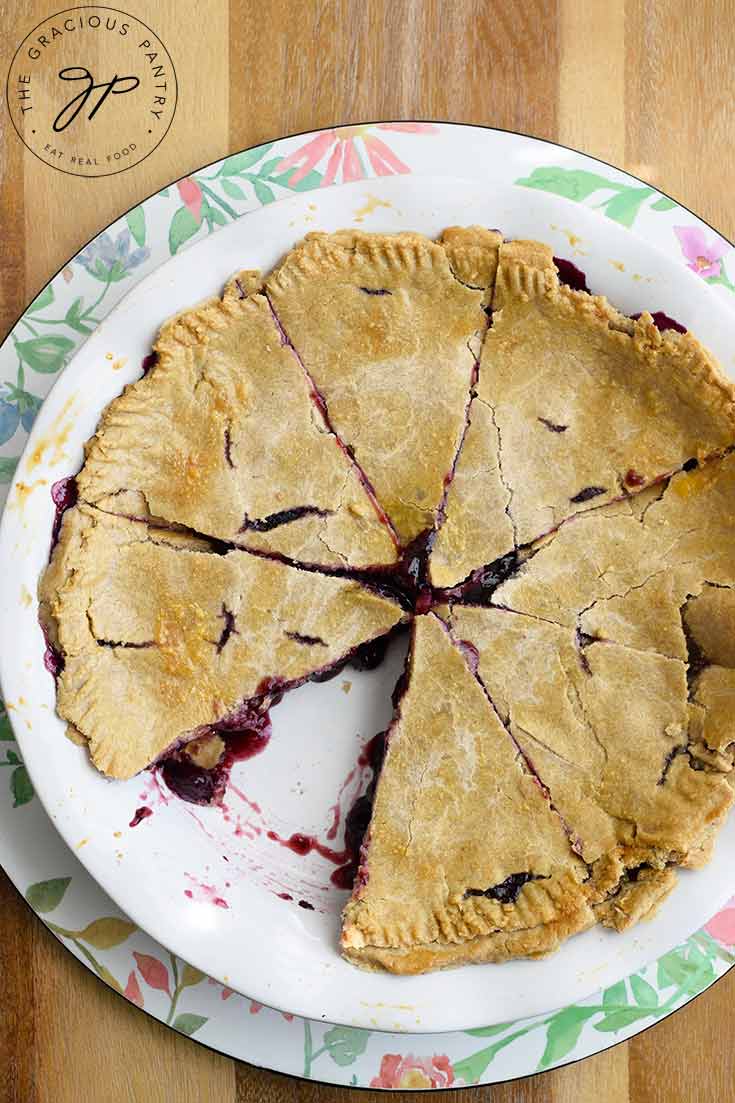 Marie's vs. Tiffany's Blueberry Pie Recipe
I have to say that I've never been a fan of pie. It just hasn't appealed to me in the past. I used to work for Marie Callender's, a restaurant famous for their pies. Even with all the free pie I could eat (I was a manager), I just couldn't bring myself to enjoy it like other baked goodies.
Little did I know what I was missing in a HOMEMADE pie. Goodness gracious!!! Homemade is W.A.Y. better than any pie you can get in a restaurant or store. W.A.Y. better. Hands down, no contest, W.A.Y. better.
Frozen Blueberries Or Fresh Blueberries?
I can only share my own experience from the many times I've made this recipe.
Fresh blueberries – The berries, after baking, are a bit softer, particularly the skins. They gel better too. There isn't any extra water from freezing, so the pie won't be as runny.
Frozen blueberries – These can be easier to keep around because they last so long in the freezer. And they will totally work for pie. But there are three very slight drawback with using frozen blueberries.
The skins seem to be a bit tougher in the finished pie. They have a bit more "chew" to them.
The pie will be a bit runnier, so will therefore require a bit more starch to help it gel. Frozen berries make a runnier pie because of water they take on when frozen.
It may take a few extra minutes of baking for the pie to get hot enough to bubble, which means it's fully done. If your crust starts to brown too much, cover it loosely with a piece of foil.
Blueberry Pie Ingredients
1 standard pie crust  – You'll want to bake the bottom crust ahead of time for about 10 minutes.
1 lb. blueberries – I prefer fresh berries because they tend to hold up better. But you can absolutely use frozen berries if that's all you have on hand.
½ cup apple sauce – Make sure this is unsweetened or your pie may end up being too sweet. Plus, a bunch of processed, refined sugar is never a good idea. Even in apple sauce.
2 tbsp. arrowroot power – tapioca starch or cornstarch work too. This is used to thicken the filling into more of a pie-like "jelly" that most folks are used to. Don't skip this or your pie will be too watery.
½ cup honey – You can use maple syrup as well, but the finished pie won't be as sweet. Maple syrup has a milder sweetness than honey. But don't add more or your pie will be too watery. You can always add a little stevia to enhance the sweetness if that's a concern and you don't want to use honey.
1 large egg – optional – for egg washing top crust for a golden finish.
How To Make Blueberry Pie From Scratch
Preheat oven to 350 F.
Add all pie filling ingredients to a large mixing bowl.
Mix all filling ingredients in a large bowl and stir until well mixed.
Pour the filling into your pie crust.
Top with the upper crust and cut vents in the top to release steam as the pie bakes.
Pinch the edges of the pie crust to close it all the way around.
Brush on an egg wash if you wish for a more golden crust.Bake until you see the fruit start to bubble (approximately 50-60 minutes depending on how your oven bakes).
Remove from oven and allow to cool.
How Long Does Blueberry Pie Last?
This will keep for 3-4 days in the fridge. Keep it covered with plastic wrap or in a pie/cake storage container with a tight fitting lid.
Can You Freeze Blueberry Pie?
If you want to freeze this, I recommend making the pie and then freezing before baking. Freeze it raw. But be aware that there will be extra liquid in the pie. The crust may not firm up as well either, depending on the crust you use. It's often best to use a pre-frozen crust. Do not freeze with the top crust. Wrap the pie with a double layer of plastic wrap.
Can You Make Blueberry Pie In Advance?
The whole pie – The raw pie can be made a day in advance and baked the following day. Just be sure to allow time for cooling.
The pie crust – You can make the pie crust in advance and either keep it in the fridge for 2 days and then use it, or freeze it for up to 2 months. Wrap it well for freezing. I find they freeze best in those disposable aluminum pie pans.
The pie filling – You can make the filling separately, ahead of time and freeze it up to 2 months. To thaw, set in the fridge for 24 hours, then use as usual.
Decorative Pie Crusts
I'm not great and making my pies beautiful like some folks. I just don't have the patience for it. But here's a video I found on different ways to top your pie. It's quite good!
Blueberry Pie Recipe Tips
Never cut a warm pie – The pie filling needs time to cool and gel. If you cut the pie just out of the oven, the filling will stream out like water. Cool it completely, and then if you want it warmed up, you can do so with a single slice in the microwave.
Don't use extra flour to roll out the crust – Pie crust does not need extra flour when rolling it out. Adding extra flour can give you a very breakable and hard-to-handle crust. If you are worried about the dough sticking, roll it between two pieces of parchment paper, or lay down a silicone or Silpat baking mat.
Always vent a double crust pie – If you are putting a crust on the top that has not decorative holes or openings (like in the video above), then you'll need to vent the pie. Meaning, you'll need to make some cuts in the top to allow steam to escape during baking.
Place the pie on a preheated baking pan – When you preheat your oven, place a cookie sheet in the oven to warm up with it. Then place your pan on that. This will help avoid a soggy crust, even on pre-baked pie crusts.
Place the shelf low – In your oven, move your rack to the lowest rung. This also helps avoid soggy pie bottoms.
Make sure you see bubbles – In order for a blueberry pie to properly gel, the filling needs to get hot enough to boil (bubble). If you open your oven and don't see at least a few bubbles, bake longer, until you do see bubbles.
Use a pie pan with an edge – This helps avoid overspill in your oven from the bubbling filling.
Bake pies on the lowest oven rack on a preheated sheet pan.
This helps prevent soggy bottom crusts. A rimmed pan also prevents juicy fruit pies from bubbling over onto your oven floor.
Need Supplies?
More Easy "I Can't Believe This Is Healthier Pie" Recipes
How To Make Healthier Pie Crust
Don't make the filling for your pie until you have a healthier pie crust to put that filling into!
Blueberry Pie Recipe
1

standard

pie crust

(see recipe link above)

1

lb.

fresh blueberries

½

cup

apple sauce

(unsweetened)

3

tbsp.

arrowroot power

(tapioca starch or cornstarch work too – use organic to avoid GMO's.)

½

cup

honey

1

large

egg

(optional – for egg washing top crust)
Please note that the nutrition data is a ballpark figure. Exact data is not possible. Also note that this data reflects the pie filling only. Please see pie crust recipe for that data.
Serving: 1slice (1/8 the pie) | Calories: 115kcal | Carbohydrates: 30g | Sodium: 1mg | Potassium: 65mg | Fiber: 1g | Sugar: 24g | Vitamin A: 30IU | Vitamin C: 5.8mg | Calcium: 5mg | Iron: 0.3mg
Recipe from the Gracious Pantry archives, originally posted 6/8/11.